Redevelopment of former newspaper headquarters and other facilities is becoming big business in more markets, as news companies offload valuable real estate with great structural bones in high-quality locations.
RISING PROPERTY values resulting from heightened demand among tech companies and other tenants for urban settings, combined with the downtown location of many newspaper headquarters, have created an opportunity for news organizations. Many that own their headquarters or print facilities are monetizing those investments, selling to investors and developers looking to convert the buildings to apartments, hotels and other forms of in-demand real estate. Others are maintaining at least partial ownership of their property while partnering with developers and investors to generate additional revenue.
One of the most popular redevelopment uses is office space, as these older buildings lend themselves to being recycled into the collaborative office environments so valued by tech and other creative tenants. The open newsroom so prevalent in the 20th century was apparently a trend ahead of its time — or perhaps this is just a case of what once was old is new again. Because of the open newsroom design, many newspaper buildings provide office developers with a canvas on which to create open, column-free environments with high window lines. Their location, typically in a traditional downtown area or close-in urban neighborhood, appeals to today's growing millennial workforce.
Here are some leading-edge examples from around the U.S.
The Oregonian, Portland, Oregon
The Oregonian, Oregon's primary newspaper, operated its headquarters from 1948 to 2014 out of a six-story building at 1320 SW Broadway in downtown Portland. Completed in 1948, the building was designed by renowned Portland architect Pietro Belluschi and is a prime example of his modernist style. The structure is a rare full-block property in downtown Portland, a highly sought-after commodity by area developers. It once housed the paper's primary printing press, as well as its newsroom and other executive and support functions. In 2014, the publishing company sold the then-vacant building to Urban Renaissance Group (URG) and partner Clarion Partners, on behalf of a separate account.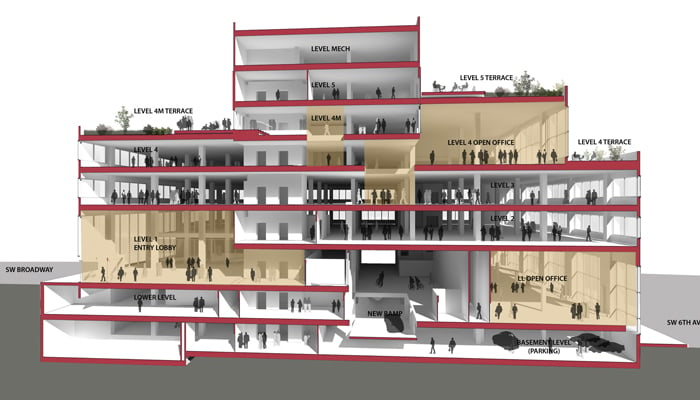 The approximately $20 million redevelopment plan created by Clarion and URG envisioned 169,000 square feet of creative office space with large floor plates and the modern amenities sought by today's creative tenants. The redevelopment team, working with Portland-based Allied Works Architecture, discovered many especially compelling design features in the building as demolition progressed. Hidden beneath drop ceilings and plain-vanilla finishes were 28-foot clear exposed, board-formed concrete ceilings in the lobby and expansive 20-foot-high windows along the Broadway frontage.
"Belluschi led the modern movement in American architecture and this building is one of the real treasures among the 1,000 or so buildings he designed. It's a tremendous opportunity to be able to work on a design to reveal the work of a truly great architect in a modern context," says Kyle Lomman, principal of Allied Works.
The rest of the building has 14-foot clear heights on floor plates of up to 40,000 square feet, a rare find in downtown Portland. Additional components to the renovation involved adding three outdoor terraces on the upper floors with expansive views to the east and west, as well as bike parking for up to 200 bicycles in the building's remodeled lower level, which also features private showers and lockers.
"When we looked at the building, we saw tremendous opportunities to reposition both the exterior and interior," says Tom Kilbane, head of URG's Portland office. "On the outside, because of its prior usage, the building had for years had its back turned to Broadway, the main thoroughfare in the neighborhood. Our goal, with the team from Allied Works, was to open up the Broadway facade and reconnect the building to the neighborhood, returning Broadway, from Jefferson to Columbia streets, to its previous position as a vibrant part of downtown Portland. On the inside, by peeling back the layers of improvement, we've exposed some of the most interesting office space that we've ever seen in Portland," he adds.
Urban Renaissance and Clarion also recruited Ristretto Roasters, a local, artisanal coffee roaster to operate the lobby cafe, with an eye toward creating a bright and engaging community space.
The building's leasing agent, Jake Lancaster, a managing director in JLL's Portland office, applauds the developers' vision in creating a modern, amenity-rich environment while preserving critical elements of the building's original design. "This is a building that really checks all of the boxes in terms of amenities as well as having the kind of Ôcool factor' that can differentiate creative users from their peers and wow their employees," he says.
The building has secured two major tenants, who will occupy more than 87 percent of the rentable area.
Elemental Technologies will move its Portland headquarters to the building, having leased 101,000 square feet (all of floors three through five). D+H Financial Technologies has leased 45,000 square feet, taking advantage of unique space on the first and second floors, which have 200 lineal feet of windows. Leasing activity remains strong; as of mid-February, a lease was in negotiation for 13,000 square feet of office space on the lower level of the building, facing SW Sixth Avenue. Asking rates are in the $28 to $30 per square foot range, triple net. The building opened in January 2017, when D+H moved in.
The San Francisco Chronicle
When the DeYoung brothers founded The Daily Dramatic Chronicle in 1865 they had a vision that transcended newsworthy events and opinions; it also materialized in the form of real estate. The DeYoung family's 135-year ownership of the newspaper, now the San Francisco Chronicle, included the design and development of three headquarters locations. The third and current location is at 901 Mission Street, at the corner of Fifth and Mission streets, in San Francisco's newly coined Mid-market submarket, just blocks from Union Square, Westfield Shopping Center and the Yerba Buena Center for the Arts.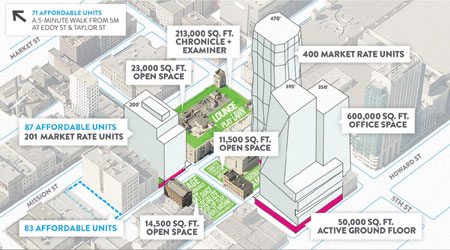 A Gothic revival building designed by Charles Peter Weeks and William Peyton Day and constructed in 1924, the Chronicle Building was stripped of its gothic revival vestiges in 1968 and remains today in its latest stucco version. With more than 178,000 square feet across three floors, the Chronicle Building, in combination with the neighboring Examiner Building, which is connected by a bridge, offers some of the city's largest floor plates — just over 60,000 square feet — as well as excellent access to public transportation, neighborhood amenities and new multifamily developments.
Owned by the Hearst Corp. since 2000, the Chronicle Building quietly became a location for tech start-ups during the Great Recession. By then, Hearst had set up in partnership with Cleveland-based developer Forest City Realty Trust and was preparing a plan for redevelopment of the newspaper's property at Fifth and Mission. A big round of newsroom layoffs in 2007, followed by more in 2009, as well as outsourcing of the newspaper's printing operation, created a significant amount of vacant space in the three-story building.
In 2010, 901 Mission became the first home to mobile payment company Square. The then 10-person company worked out of space once occupied by the Chronicle's accounting department. When Square moved to new premises in 2013, the 70,000-square-foot space it vacated was snapped up by Yahoo on a five-year lease. Impact Hub, which offered co-working, meeting and event space before the co-working industry exploded a few years later, also set early roots in the building. Once its only occupant, today the Chronicle occupies only about a third of the total leasable space at 901 Mission.
The most exciting iteration of the Chronicle Building is yet to come, however. Over the next several years, Forest City will be developing the 5M Project, a four-acre mixed-use project anchored by the Chronicle Building that will offer office, residential, retail and open spaces. The Chronicle Building will be retained as an historic icon and a rooftop park will be added. The property will host a range of ongoing activities, from art installations to pop-up retail shops. The 5M Project was approved in December 2015 and construction is planned to take place over the course of several years.
The Chicago Tribune
The Chicago Tribune site at 700 West Chicago Avenue in the River West area of the city totals more than seven acres of developable riverfront land across from the newspaper group's Freedom Center printing and distribution facility. Mixed-use development has been on the rise in Chicago, as has demand for creative and tech space in the city center. Long-range development plans are pushing the city's growth beyond the traditional Loop core, outward to urban microdistricts, including the River West area, where larger floor plates are possible.
Tribune Media, the owner of the Chicago Tribune site, is trying to generate revenue from the company's vast real estate holdings. The redevelopment of the 700 West Chicago site is a key component of this goal. Tribune Media will partner with Chicago-based Riverside Investment & Development, which will serve as the master developer for a phased mixed-use project that will involve the redevelopment of the 115,000-square-foot building that sits on the site. The first phase is expected to include 435,000 square feet of office space. Subsequent phases will incorporate multifamily residences, public space and, potentially, a hospitality offering.
Pending approvals, the first phase will likely feature a mid-rise office tower that will include outdoor spaces in the form of rooftop and other decks with green features. The development will also include an open market area and public green spaces. Plans for the project are ongoing.
The Herald Examiner, Los Angeles
The stately Herald Examiner office building at 1111 South Broadway, which was commissioned by publisher William Randolph Hearst, opened in 1914 but has been empty of daily office workers since the publication closed in 1989. The building was designed by Beaux Arts graduate Julia Morgan in the Mission Revival and Spanish Colonial Revival styles with a red tile roof and prominent architectural arches. The structure also featured spectacular arched windows at the ground level that were enclosed with cement in the late 1960s after they were damaged during a labor strike. Soon after the publication closed, the building was converted into one of the preeminent filming locations in greater Los Angeles.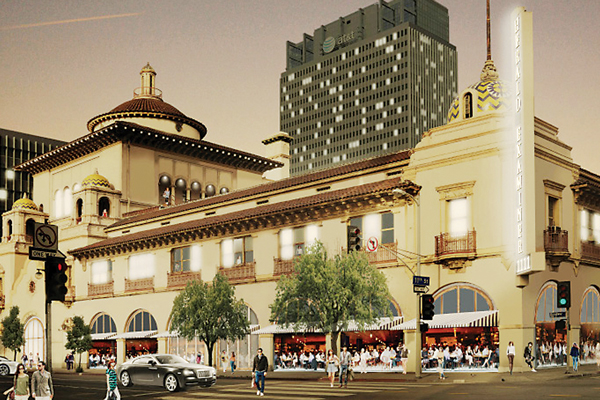 The Hearst Corp. recently sold a stake in the property for an undisclosed amount to The Georgetown Company, a New York-based developer that plans to repurpose it as a mixed-use center.
"We entered this project with a vision of retaining, restoring and highlighting the architecturally significant features of the original Julia Morgan design while creating unique, modern workspaces within the bones of this great building," says Michael Fischer, vice president, The Georgetown Company. "It's a significant commitment but a worthwhile one to preserve one of downtown LA's finest architectural gems and a piece of journalism history," he adds.
The $40 million project will feature 100,000 square feet of creative office space as well as ground-floor retail space. Many of the property's architectural features will be returned to their former status, including the lobby, a once-ornate entrance with hand-painted tiled flooring, gilded arches and marble features. Gensler will transform the iconic building into modern creative office space.
The renovated five-story building will feature 24-foot ceiling heights, operable windows and skylights on the top floor. Three main floors of office space, each of which will be designed with a unique character and flavor, will appeal to creative tenants such as entertainment and advertising companies. The renovation is expected to be completed and the building available for occupancy by the end of 2017.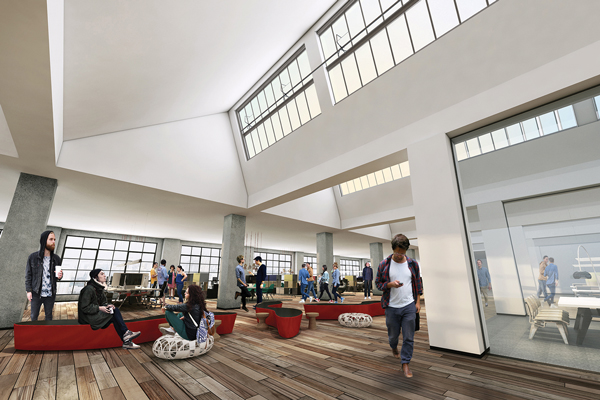 "The Herald Examiner building is a jewel surrounded by a host of new amenities, including hotels and residential developments," says Carl Muhlstein, international director, JLL, and the leasing agent for the project. "Georgetown's plans for the building have been extremely well received and we are already seeing strong interest from creative as well as traditional tenants who want to be in this dynamic part of town," he adds.
Opportunities Remain
For most of the late 19th and early 20th centuries, the newspaper industry underwent a land rush, as publishers fought to build their news empires across the continent. On the way, some acquired real estate assets in central city locations that they and their organizations doggedly clung to as physical representations of their brand. Many commissioned esteemed architects of the day to design buildings to reinforce their brand as the biggest, best and first.
Today, the industry's need to run a tight ship — to streamline operations, reduce costs and, where appropriate, monetize valuable assets — has become even more important. This is providing real estate investors and, more specifically, experienced office developers, with a blank canvas upon which to build the next iteration of creative office space.
Patricia Raicht is senior vice president and national research director at JLL. Julia Georgules is vice president and director of U.S. office research at JLL.
Reusing Other Newspaper Buildings and Sites
Many other former newspaper buildings are currently in various stages of redevelopment across the U.S. Here are just a few more examples:
The Seattle Times. Canadian developer Onni Group purchased the former Seattle Times headquarters building in the South Lake Union neighborhood in November 2013 for $29 million. It plans to demolish the 1930s era building, preserving the historic facade, and build four residential towers with almost 2,000 multifamily units as well as ground-level retail space.
The Washington Post. Washington, D.C.-based Carr Properties purchased the former Washington Post headquarters buildings in downtown Washington in 2013. It began demolishing the structures in March 2016 and is now developing a $650 million mixed-use project on the site that is expected to deliver in mid-2018. The building, which will house the new Fannie Mae headquarters, will be known as Midtown Center.
The San Diego Daily Transcript. San Diego-based SDPB Holdings LLC recently purchased the 35,000-square-foot former headquarters of the Daily Transcript, which is located in the city's emerging Uptown/Bankers Hill neighborhood, for $5.3 million. The developer has plans to convert it into creative office space.
Knight Ridder, San Jose, California. Knight Ridder was once the second-largest publisher of daily newspapers in the U.S. Its holdings included the Akron Beacon Journal, Charlotte (North Carolina) Observer and San Jose Mercury News. The San Jose-headquartered media conglomerate lost its corporate identity when it was acquired by McClatchy Newspapers in 2006. Ten years later — and long after it moved out of its corporate offices at 50 West Fernando — two huge Knight Ridder signs still sat atop the downtown San Jose skyscraper. In August 2016, the building's owners, DivcoWest and Rockpoint Group, completed the first phase of a major capital investment program in the building by unveiling new rooftop signage promoting San Francisco's Public Broadcasting Service-affiliate, KQED.