A 4.8-acre mixed-use, transit-oriented development on the site of the Government Center Garage aims to meet the future needs of Bostonians.
SPANNING TWO city blocks at the geographic center of Boston's urban evolution, Bulfinch Crossing — the redevelopment of the Government Center Garage site — has been planned as a 2.9 million-square-foot mixed-use development. Situated atop two MBTA subway lines, a short walk from the city's two commuter rail stations and a mere five-minute drive from Logan Airport, the project is expected to set a new standard for transit-oriented development.
At buildout, the 4.8-acre project will feature 1.15 million square feet of office space, much of it in One Congress, a 43-story, 1 million-square-foot office tower designed by Pelli Clarke Pelli Architects and CBT Architects that will rise more than 500 feet at its namesake location, offering unparalleled 360 degree views. Tenants are expected to include financial services, technology and/or other Boston-based industries.
Bulfinch Crossing will also contain 85,000 square feet of new street-level retail space that will activate the area and complement the established surrounding neighborhoods, as well as more than 800 residential units, 200 hotel rooms and approximately 1,160 parking spaces. It will feature a one-acre rooftop garden on the west parcel and a more than one-acre public square on the east parcel. Bulfinch Crossing will reestablish a prominent central gathering point in downtown Boston and help knit together adjacent neighborhoods — including the North End, West End and Beacon Hill — that have been divided for more than 50 years.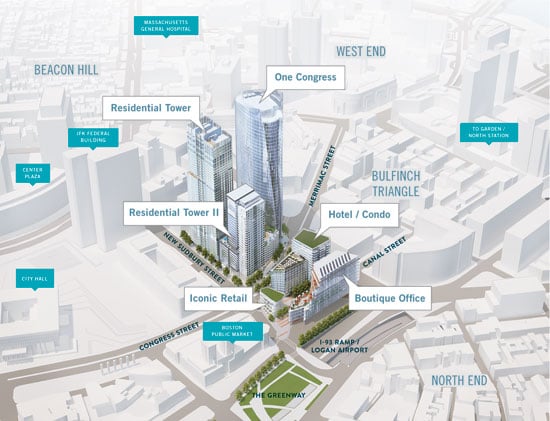 The project is a bold vision for the future of Boston. Owner National Real Estate Advisors (National) and developer The HYM Investment Group (HYM) are working together to realize their vision for the transformation of the late 1960s urban renewal above-grade garage into a new active destination. Bulfinch Crossing's initial phase, the reconfiguration of the garage, is currently underway. It consists of $25 million of interior improvements, including reconstruction of four interior parking ramps, a new parking office and new structural brace framing. The majority of the enabling work has been completed. The existing garage has remained open throughout this initial construction phase and will stay operational through the six-building redevelopment.
The first phase of the redevelopment itself will involve the construction of one of Boston's tallest rental apartment towers on Bulfinch Crossing's west parcel. The 480-foot tall, 45-story residential tower, which has been designed by Boston-based CBT Architects, will comprise 486 luxury units with views from Boston Harbor to the Back Bay and the Charles River. Demolition for the foundations of the first residential tower in the southwest corner of the garage commenced in December 2016. The tower's multiple amenity floors will feature an outdoor pool, two outdoor decks, a 4,000-square-foot fitness facility, a yoga studio, a golf simulator, a private dining room with a chef's kitchen, two great rooms and a dog spa/daycare area. The residential tower will be completed in summer 2020.
Bulfinch Crossing's west parcel will be anchored by the One Congress office tower — to be built in the second phase — and will also include a second 300-foot-tall high-rise residential tower in addition to the first-phase apartment tower.
On the east parcel, three mid-rise structures — including a hotel/condo building, a boutique office building and an iconic 60-foot-tall glass "jewel box" retail building — will surround a new urban net-zero public square with al fresco dining, cafes and chic retail shops. The square has been designed to help reconnect the surrounding neighborhoods and improve walkability. The retail building will connect Boston's famed Faneuil Hall with MBTA's North Station commuter/Amtrak station, with access to TD Garden, via historic Canal Street. The redevelopment will also house a bicycle parking facility and a new Hubway bike-sharing station, provide electric vehicle (EV) charging stations and offer multiple car-sharing options.
Emphasizing Access With Transit Options
The generational shift away from car-centric design to a preference for multimodal transportation access has spurred redevelopment in cities around the world. In Boston, it's one of the leading factors behind the trend to find new uses for downtown public garages. As soon as it was built in the 1960s, the multiblock Government Center Garage became a visual eyesore that physically divided surrounding neighborhoods.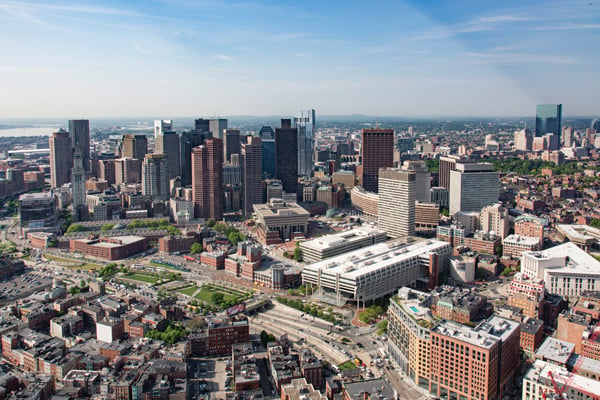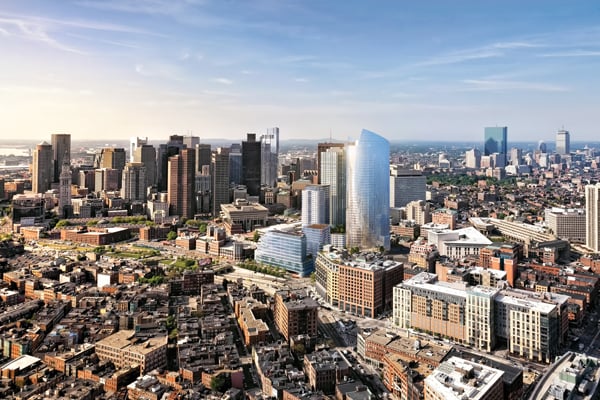 The redevelopment will transform the existing 2,300-space garage into a mixed-use development that will reduce the amount of parking by approximately 50 percent and will apply a robust and realistic shared parking model. The facility will provide parking for on-site users and the public, including event parking as well as parking for residents of adjacent parking-constrained historic neighborhoods such as the North End and Beacon Hill.
The garage currently spans Congress Street, hovering above it and covering an entire city block. The demolition of more than half of the garage will bring daylight to this portion of Congress Street for the first time in 50 years. It will also help reestablish a visual connection between two parts of downtown Boston and create two more appropriately urban-scaled city blocks.
The eastern portion of the Government Center Garage currently shelters the Haymarket Bus Station, a major MBTA regional bus station that provides an important link for many commuters from North Shore communities. It also features a headhouse for direct access to two on-site subway lines. In the later phases of the development, this station will be temporarily relocated off-site, then integrated back into one of the east parcel buildings. Roads surrounding the project will also be upgraded with adaptive signal technology, and new bicycle lanes will be added to some road segments.
Focusing on Sustainability
Boston will face a number of complex sustainability and resiliency issues relating to climate change and sea level rise in the coming years. National and HYM are striving to incorporate sustainable practices and strategies into Bulfinch Crossing throughout each phase. Retaining the western portion of the garage reduces the amount of new construction materials and energy associated with fabrication and transportation, as well as the amount of waste created in the demolition phase.
Bulfinch Crossing's buildings have been designed to various LEED standards, including one building at LEED Platinum, four at LEED Gold and one at LEED Silver, with elements that aim to achieve energy savings and significant reductions in greenhouse gas emissions. Each building will feature low-flow, high-end fixtures; will locate critical mechanical equipment above street level; and will connect some additional building elements, such as domestic water pumps and common area outlets, to an emergency generator, to improve the building's resiliency during power outages.
The development team is also committed to creating a net zero energy public square through the future installation of solar panels on one of the east parcel buildings. A one-acre green roof and roof garden will be constructed on top of the remaining garage and will be shared by the three west parcel high-rise buildings. The roof deck will provide additional environmental benefits, reducing the project's "heat island" effect and helping to manage stormwater runoff.
Working With the Community to Reunite Neighborhoods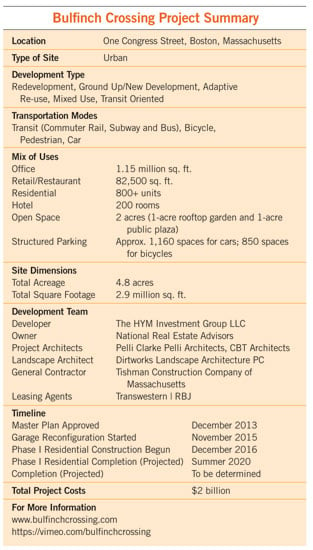 Bulfinch Crossing is a natural extension of the legacy of Boston's Bulfinch Triangle, both in location and in name. Bulfinch Triangle was originally master-planned by Charles Bulfinch, widely known as the first American-born professional architect, as one of the first mixed-use districts in the U.S. It was designed to be a place in which industry and commerce flourished. As urban renewal took hold in the 1960s, however, construction of the Government Center Garage interrupted the area's historic fabric.
Understandably, this high-profile redevelopment project underwent a detailed review by the city of Boston when it was first proposed in 2013. During the approval process, National and HYM took care to involve the public on every level. HYM representatives met with neighborhood residents in small groups over the course of several years, listening to their concerns and absorbing their feedback along the way. For example, after residents expressed a desire for bicycle accessibility, National and HYM incorporated an 850-space bicycle parking facility — the largest such facility in the city — along with a new bike-share station, into the project. Throughout the process, HYM also worked with a city-appointed advisory group, integrating feedback into the project design.
This feedback loop helped tailor the design of Bulfinch Crossing so that it now reflects both the concerns and ideas of residents from bordering neighborhoods. Working with the city and its various departments was key to the project's successful planning and permitting. This extensive and responsive community outreach resulted in strong community support and unanimous approvals by the city of Boston.
By listening carefully to the local community from the beginning, the team recognized that people are looking for more than just a place to live or work. Residents of Bulfinch Crossing — as well as those who work there — will find a wide array of neighborhood amenities at and surrounding their homes and offices, including shops, restaurants and open space where they can gather and take part in community activities. In addition, the project's east parcel abuts another area developed with civic uses in mind, the Rose Kennedy Greenway.
Bulfinch Crossing continues to strive to unlock potential: the potential to dramatically improve the public realm and architectural character of downtown Boston through thoughtful redevelopment and the creation of a new, pedestrian-friendly public square. The project won't just visually connect Bulfinch Triangle with its surrounding neighborhoods; it will provide a physical and even emotional connection that all visitors to this place will experience.
Thomas N. O'Brien is the founding partner and managing director at The HYM Investment Group LLC.