"Third places," both in common areas and within tenant spaces, can add value to office buildings.
URBAN SOCIOLOGIST Ray Oldenburg first wrote of the "third place" in his 1989 book "The Great Good Place." He enlightened readers about the importance of a place without ties to personal obligation — an environment that encourages relaxation, collaboration and decompression — for people's overall well-being. In his words, "daily life, in order to be relaxed and fulfilling, must find its balance in three realms of experience. One is domestic, a second is gainful or productive, and the third is inclusively sociable, offering both the basis of community and the celebration of it." Now, almost three decades later, this third place has become even more relevant for people seeking work-life balance.
Consider the rise and prominence of the open office; it can encourage collaboration, foster learning and cultivate a strong culture. However, if poorly implemented, it inhibits the employee's ability to find personal solace as well as the ability to process complex ideas and revitalize oneself during working hours. Current studies reveal the importance of balancing group interaction and personal space. While collaboration is essential in today's workplace, so is "sequestered time," which enables individuals to process information and develop their own perspectives.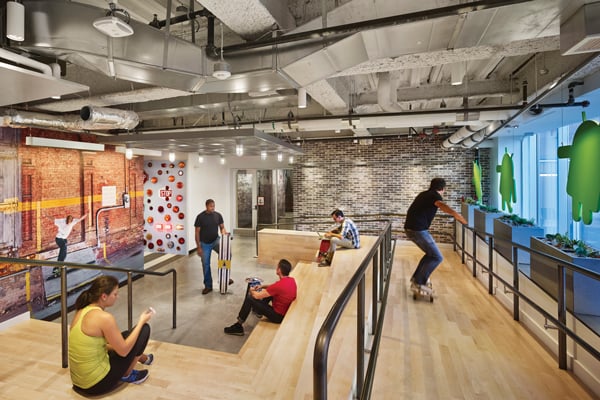 The idea that the third place must be entirely separate from the office environment is quickly fading away. Office culture is changing, and corporate executives now recognize the need to include respite spaces and interactive, fun places within the workplace. It's widely known that companies like Microsoft and Facebook have created entertainment- and food-based third places where employees can rest, have fun and enjoy a meal or a snack. These places can incorporate Ping-Pong tables, cafes, bars, video game stations, karaoke lounges and more. Other types of third places include a variety of multipurpose, interactive collaboration spaces.
Corporate Third Places
Gogo Inflight's new corporate headquarters in Chicago, for example, incorporates an entire, connected area based on the third place ideology. A cafe, Ping-Pong table and multiple comfortable gathering and seating areas take up a significant portion of the floor plate. These enable employees to work in more collaborative environments while also providing spaces in which they can unwind, connect with one another and nurture a sense of belonging and community, all without leaving the workplace.
A pioneer in wireless in-flight digital entertainment solutions, Gogo sought a workplace that would facilitate its aggressive growth and flexibility while also offering employees new ways of working in a collaborative space as well as places to unwind and connect with one another. Its third place is defined by exposed brick, offering a warmth that sets it apart from the cool whites and blues of the rest of the workplace.
Google is another example. The company recently revitalized and expanded its offices in Cambridge, Massachusetts, on a campus that consists of three interconnected buildings occupied by thousands of Googlers. A multitude of game rooms, casual meeting spaces and various "nooks and crannies" enable Googlers to connect with their coworkers in ways that often are more meaningful and engaging than traditional workplace interactions.
Other Types of Third Places
Office building owners and landlords are also implementing third place concepts in common spaces. Those who have done so have found that third places can help drive up property values, attract top-quality tenants and revitalize a building's reputation. These third places typically include retail spaces, restaurants, cafes and fitness centers as well as lobby areas and outdoor spaces with comfortable and collaborative seating clusters that encourage tenants and their guests to interact, be themselves and enjoy a sense of peace and belonging.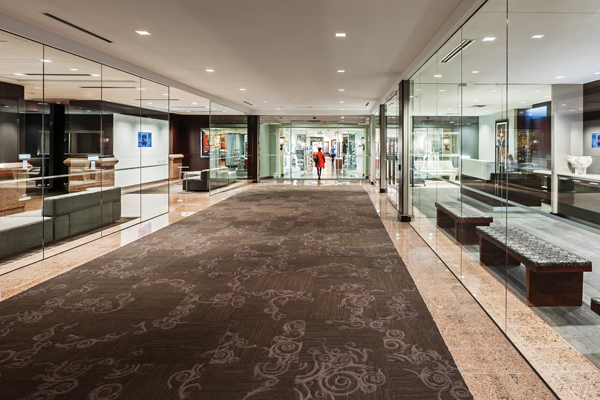 For example, when working on capital improvements for Plaza Seven tower in Minneapolis, Nelson upgraded building amenities and incorporated multiple comfortable seating areas more akin to those typically found in a hotel lobby or high-end bar than in an office tower. The upgrades helped raise occupancy from 58 to 97 percent, which in turn helped increase the price at which the building was sold in July 2016.
What type of third place is right for your buildings and tenants? It's important not to lose sight of the tenants' office culture and objective. The third space should be an extension of this culture, not a separate entity. It should always meet the needs of the company and its employees. If your building already has a cafe in the lobby, adding another won't necessarily benefit tenants. But a fitness center or game room might be highly valued by tenants whose employees work long, irregular hours. A knowledgeable design team will take into account the needs of your existing or prospective tenants to create relevant, useful third places that can help make your building "the place to be."
Gary Miciunas, principal, advisory services, Nelson