Increasing demand for cloud-based services is fueling data center leasing activity.
AS ADOPTION of cloud technologies to support the Internet economy and digital content-driven consumption accelerates, demand for third-party data centers that support the cloud-managed service sector is projected to double in the next five years. Globally, the multitenant data centers (MTDC) market is expected to rise at a compound annual growth rate (CAGR) of 12.1 percent between 2015 and 2018. Market absorption for MTDCs, measured in megawatts (MW), is increasing exponentially in many U.S. metro areas, which currently represent 44 percent of the global market.
Today's data center IT decision makers are using increasingly sophisticated criteria when they shop for space and power. The "big six" data center REITs — Equinix, Digital Realty, DuPont Fabros Technology, CoreSite Realty, CyrusOne and QTS — have continued their development binge, while smaller MTDC players also made some notable acquisitions in 2016. As the data center market grows, cloud providers want to bring data applications and storage closer to consumers while decreasing latency and increasing reliability, opening new markets for potential data center construction. More flexible buildouts are allowing diverse players to enter a market once dominated by only the largest providers.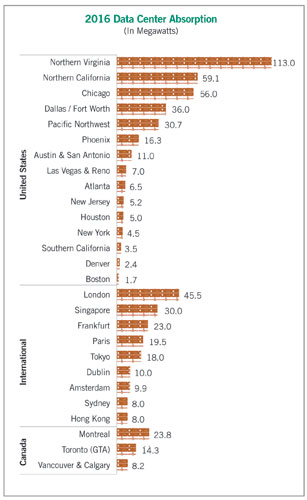 Clouds are growing in top data center markets; Ashburn, Virginia, is the global market leader. Enterprises continue to develop new software as a service (SaaS) while reducing the cost of and dependence on infrastructure as a service (IaaS).
While many property owners and investors want to take advantage of the burgeoning market, not every property is well-suited for data centers. As it does with most real estate, attractiveness to clients typically depends on location. Good locations for data centers require proximity to high-speed fiber networks with low latency to major markets, reliable and affordable power and water supplies, accessibility to users or potential tenants, limited natural hazards and reliable infrastructure such as power (including generators, automatic transfer switches, etc.) to critical support services. All of these are essential to the success of any data center venture.
Rapidly evolving international regulations over data sovereignty, which require that data be housed within the same country from which it is accessed, are influencing data center location decisions while acting as market-makers in certain countries, such as France and Brazil. Local data centers help protect data and necessitate new investment in local economies, so the industry's biggest data center developers and operators are rapidly expanding internationally to meet growing demand and help users remain compliant.
Climate change is also influencing location strategy, as more data center users evaluate performance from socially responsible, environmental and financial perspectives. Providers are eager to decrease utility consumption by implementing less resource-intensive cooling and powering strategies. Access to renewable energy sources and water are therefore becoming even more important factors in choosing data center locations.
Developers will need to carefully analyze these factors to best position themselves to capture data center market opportunities. Accurate forecasting of space and power needs will decrease the need to build for redundancy, as more data center users become better at using analytics to predict their resource needs. Creative approaches can help providers match their offerings to the rapidly evolving requirements of an industry undergoing transformative growth.
Kelly McBride, Jeff Groh, and Allen Tucker, are managing directors at JLL.