NAIOP has awarded its second Diversity CRE Scholarships to graduate and undergraduate students in commercial real estate from backgrounds that have traditionally been underrepresented in the industry.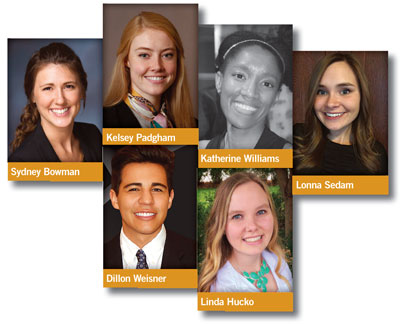 NAIOP IS PLEASED to announce the recipients of the 2017 NAIOP Diversity CRE Scholarships. The program was established in 2016 to support graduate and undergraduate students pursuing a degree at a NAIOP university member school that will lead to a career in the commercial real estate industry. Preference was given to students from backgrounds that have traditionally been underrepresented in the industry. In addition to a $5,000 scholarship for graduate students and a $2,500 scholarship for undergraduate students, beneficiaries also received complimentary registration to NAIOP's CRE. Converge 2017 conference in Chicago.
A panel of industry experts reviewed more than 60 applications and identified the top candidates. All of the winners are active in commercial real estate, whether through NAIOP Real Estate challenges, club membership, mentoring relationships or actual work experience.
Graduate Students
Sydney Bowman, a graduate student at Portland State University, expects to receive her Master in Real Estate Development in 2018. A former Peace Corps volunteer, she hopes to become a broker and work with multifamily properties. Bowman's father and grandfather both worked in CRE, but her desire to pursue it as a career was cemented by a mentoring relationship with a female broker. Bowman hopes to repay the favor and inspire other women to find their own places in the field. She is currently an associate with CBRE.
Kelsey Padgham is a student in Cornell University's Master of Professional Studies in Real Estate program. She has a passion for retail construction and planning in land-constrained markets. By combining her project management experience with a dual degree in real estate and regional planning, Padgham aims to become a leader in retail development. She is president of Cornell Real Estate Women and has participated in multiple student design and real estate competitions.
Dillon Weisner is pursuing a Master of Science in Real Estate at the University of San Diego. He is interested in sustainable development, real estate economics and affordable housing and is a certified LEED Green Associate. Weisner plans to join KPMG, where he will continue to develop his skills and pursue his aspirations. Ultimately, he would like to work as a developer with his stepfather's construction business in his hometown of Redlands, California.
Katherine Williams is an architect and a student in American University's Master of Science in Real Estate program. After working at architecture firms for several years, she decided to pursue a higher education in CRE so she could participate in project initiation and community integration as well as design. Williams is LEED AP-certified and an active member of the American Institute of Architects and the National Organization of Minority Architects.
Undergraduates
Linda Hucko attends Marquette University, where she is majoring in CRE and accounting. She hopes to use her financial skills to mitigate risk and make ethical investments. Ultimately, she would like to take on a leadership role in CRE development. Mentoring relationships, including a relationship she formed through NAIOP Wisconsin's inaugural mentorship program, have played a pivotal role in Hucko's career path.
Lonna Sedam is majoring in CRE with a minor in finance at the University of Cincinnati. After entering college to pursue interior design, she was drawn to commercial real estate and its impacts on the local community. She has a passion for historic properties and hopes to develop and revitalize older communities. Sedam took some time during her college years to earn her real estate license and spent a year working in residential real estate.
NAIOP champions diversity through a strategic initiative that also provides resources and case studies on incorporating professionals from traditionally underrepresented groups — including young people, women, African-Americans, Asians and Hispanics — throughout the industry.