A fresh-air, 28th-floor amenity lounge has transformed a Chicago office tower.
EXPANSIVE CITY views might be the greatest advantage offered by an upper floor of a downtown high-rise. But once you turn your back to the windows, it's easy to forget that you're in the center of a bustling city. You could be on any floor of any office building, anywhere.
That's not the case at 200 West Jackson, a recently redeveloped building in downtown Chicago. On the 28th floor of this office tower, windows open during warm weather months to bring in fresh air and the sounds of the city below. This full sensory experience creates an inviting and comfortable atmosphere for a hospitality lounge, where building tenants socialize, collaborate and recharge.
The four-season tenant lounge was added as part of an $8 million renovation at 200 West Jackson led by White Oak Realty Partners. When White Oak bought the property in 2015 with investment partner Angelo Gordon & Co., they saw an opportunity to reinvent a 46-year-old building that had been shedding tenants. The property boasted an ideal location in Chicago's West Loop, close to numerous Chicago Transit Authority bus and train lines, but lacked the amenities and "wow" factor many companies demand to attract and retain employees in today's fiercely competitive talent market.
Reinventing a Classic Building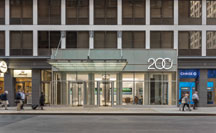 White Oak immediately launched the design process for new amenity spaces and transformed the lobby and exterior. The new experience begins at the entrance, where an aluminum retail facade has modernized the building exterior. Inside, the lobby has been updated with a textured stone feature wall that includes a large-scale recessed LCD media wall. A perforated metal organic backlit "tree wall" featuring images of tree trunks and branches runs the length of the lobby.
On the top floor, the new 2,700- square-foot amenity lounge, dubbed "The Notch," offers Wi-Fi service and features dark wood wall paneling, wood slat ceilings and warm ambient lighting. A variety of furniture groupings offer leather, mohair and wool seating juxtaposed with metal, glass and wood tables and lamps. The lounge's bar and recreation area also features multiple seating areas and chair types, to encourage collaboration, independent work and networking. Building tenants can reserve The Notch for private events during or after the workday, for no additional charge. While there is no permanent bartender on staff yet, the bar is equipped for use by caterers during events.
Employees are drawn to the airy, open space, which blurs the line between indoors and outdoors with abundant natural light, glass walls, large operable windows, outdoor furniture and plentiful greenery.
The lounge is only one of the focal points on the new amenity floor. Building tenants can also take advantage of a new 2,500-square-foot full-service conference facility and a 3,500-square-foot fitness center. Both the conference facility and the fitness center are available for tenant use at no additional cost.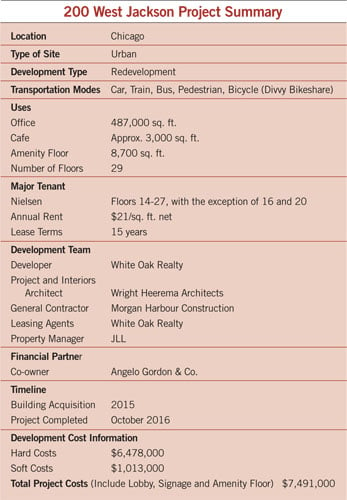 The property management team also has implemented new initiatives to help companies in the building achieve their health and wellness objectives. They launched a "free fruit for tenants" program and added new vending machines located just outside the conference center adjacent to the amenity lounge that are stocked with freshly prepared snack and meal options from Farmer's Fridge, a Chicago company focused on local sourcing of healthy vending machine food.
The Results
In early 2017, Nielsen, the TV ratings firm, signed a 215,000-square-foot lease to consolidate all of its Chicago-area employees into one space at 200 West Jackson. Companies such as video marketing firm Liquidus Marketing have signed additional leases, bringing building occupancy up to 81 percent from its original state of less than 50 percent occupancy when White Oak purchased the building in 2015.
Loyalty from existing tenants who have been in the building since before the renovation began has also seen a boost, thanks in no small part to a consistent approach to property management, which helped keep current tenants happy throughout the year-long transformation. Property management hosts a weekly happy hour for all tenants; it also brings a different food vendor — who offers convenient lunch options — to the amenity lounge each day.
The world of work has changed. Office tenants today expect their buildings to provide much more than simply a place in which to work at a desk or hold the occasional meeting in a conference room. They're seeking to provide rich experiences for employees in environments that set their company apart. The opportunity for owners and developers to reinvigorate older buildings is immense. Sometimes what's needed is a simple breath of fresh air.