This year's award winner has long been a pioneer in the development of top-quality commercial real estate assets.
ICONIC REAL ESTATE developer Trammell Crow built his first warehouse nearly 70 years ago in Dallas. From that simple beginning, he established a company and a legend that continue to this day. Crow initially created Trammell Crow Company (TCC) as a series of partnerships in Dallas, then across the country, with other entrepreneurial-minded developers. In 1991, he brought that loose confederation of partnerships together into a private C-corp, a move that transformed TCC into a diversified real estate company. The firm went public in 1997. In 2006, CBRE, the world's largest commercial real estate services firm (based on revenues), purchased TCC for $2.2 billion.
Today, TCC is an independently operated subsidiary of CBRE. It is one of the largest commercial real estate developers in the U.S., with $5.9 billion of projects under construction, $5.9 billion in the pipeline and some 219 employees in 16 field offices overseeing development projects in 30 states.
For its stellar performance, financial consistency and stability, ability to adapt to market conditions and strong support of NAIOP and the local communities it serves, NAIOP has named Trammell Crow Company its 2017 Developer of the Year.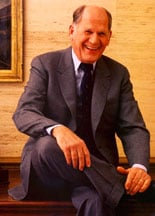 "We are honored to have our work recognized by the leading real estate industry association," says Matt Khourie, CEO of TCC. "We would not be here without our development executives, who are carrying on Trammell Crow's legacy by developing the best projects on the best sites in the best markets. We are also grateful to the communities in which we have developed, our investor partners, occupier clients and, most of all, all of our team members."
Khourie has been with TCC for much of his career. Starting as a retail leasing agent in Houston, he later became a shopping center developer and then a developer of all types of TCC assets, which include office, industrial, multifamily, and health care buildings as well as retail space. In 2004, he became TCC's central region president. Three years after CBRE purchased TCC, Khourie was selected to head CBRE Global Investors, CBRE's real estate investment management subsidiary. In 2016, he was named CEO of TCC. "I was very excited by this opportunity, because my first love in the real estate business is development," he says.
Entrepreneurship and Partnership
Although it's been many years since Trammell Crow himself headed the company, Khourie stresses that a spirit of entrepreneurship and partnership continues to thrive at TCC. "It is a culture at the foundation of our company," he explains. "There is a strong bond of partnership among all of our 16 offices. When one office needs expertise from another, our team members are always willing to assist."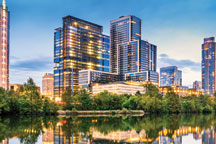 The culture of entrepreneurship is also stronger than ever, according to Khourie. Much of this has to do with how the company is structured; it is centered around its business units. This enables local professionals in each of TCC's offices to refine their own strategies, and to uncover and make the most of the best real estate opportunities that their markets offer. TCC now has local business units in Atlanta, Austin, Chicago, Dallas, Denver, Houston, Los Angeles, Newport Beach, Philadelphia, Phoenix, Pittsburgh, Portland, St. Louis/Kansas City, San Francisco, Seattle and Washington, D.C.
From Business Unit to Investment Committee
Khourie describes how the company works with its local units by highlighting a recent project in Austin, Texas. In 2008, the city accepted proposals from developers to redevelop approximately 4.4 acres in downtown, the former home of Austin's Thomas Green Water Treatment Plant. The local TCC office saw the site as an excellent opportunity to revitalize the area and went to work on a plan.
After winning out in the RFP selection process over four other national developers, TCC entered into negotiations with the city. The negotiation process included several presentations to the TCC Investment Committee. It concluded in 2012 with the city's final approval of a conceptual master plan that included four separate towers totaling over 1.8 million square feet, as well as the terms of the development agreement.
TCC's Investment Committee is comprised of TCC's six-member Executive Committee, as well as its risk management, financial management and legal leaders. The committee's review process also includes peer review from a subject matter expert located in a different business unit who is not directly associated with the project being evaluated.
Getting an investment opportunity approved by the Investment Committee is a rigorous process, Khourie explains. The committee examines each proposed project from every possible angle: supply-demand dynamics, construction costs, debt and equity agreements, and more. The local team often appears before the Investment Committee several times to answer questions before a project is approved. "We don't want to miss anything," stresses Khourie. "We aim to protect our stakeholders, including our investor partners and our firm."
Once a development concept is fine-tuned, TCC presents it to its financial partners through its Capital Markets Group, which connects institutional capital to the firm's internal resources and product pipeline. TCC has relationships with 36 lenders and 32 equity partners.
Following the Investment Committee's approval of the master plan and city agreements for the Austin Green Water Treatment Plant project in 2012, the Austin team has returned to the Investment Committee on numerous occasions for approvals related to the individual projects within the larger site.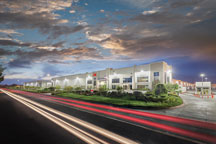 Northshore, the first phase of this mixed-use project, was completed in 2016. The 38-floor tower, developed in partnership with the Hanover Company, consists of 439 apartments and 50,000 square feet of office and retail space. 500 West 2nd Street, the second phase, was completed in 2017 and is 94 percent leased. The 29-story tower consists of approximately 490,000 square feet of office space and approximately 9,000 square feet of ground-level retail space.
The third phase of the project, known as Austin Proper Hotel & Residences, is a 35-story tower that broke ground in September 2016. Upon completion in the summer of 2018, it will consist of a 244-room boutique hotel and 99 luxury condominiums. The fourth and final phase is currently in design; the current program calls for office and retail space as well as luxury multifamily units.
Each of the two completed towers is owned by TCC, with separate joint venture equity partners and construction lenders. Austin Proper, however, is being developed by TCC but is owned by a separate entity controlled by The Kor Group.
"In the case of 500 West 2nd, we were fortunate to land one of the best technology tenants in the country to occupy the building," explains Khourie. "In fact, this tenant has already taken additional space in the building, and now leases 60.5 percent of the project."
Khourie adds that CBRE has a role in each of TCC's projects. TCC focuses on identifying investors and developing the project. It then relies on CBRE for co-investment capital and to handle other activities, including marketing, leasing, property management, and investment sales.
Conservatively Structured Deals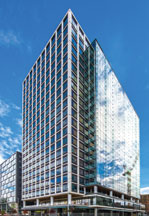 Although TCC has the backing of CBRE, the development company remains extremely conservative when it comes to the financial structure of its real estate development agreements.
"We believe that a judicious capital stack is the best approach in this cyclical industry," explains Khourie. "We and our investor partners will typically invest anywhere from 35 to 50 percent equity in each of our deals. That is on the high side relative to what others in the industry do, but it allows us to get favorable debt terms with our lenders. The loan terms we are able to achieve allow us to ride through a cycle, should a down cycle hit."
Finding the right partner is critical to structuring a deal properly, notes Khourie. "You need equity partners and debt partners who can sustain a project through a cycle and also have a long-term perspective. We have learned that if your partners have a short-term focus while you have a long-term perspective, conflicts can arise during a market downturn. We make sure that our partners are like minded and have the ability to sustain through a down cycle."
Another critical element in financing projects is CBRE's top-quality research. TCC uses CBRE Research for market intelligence and other insights to help it make informed projections and strategic decisions.
Ability to Adapt
While TCC's skill in adapting to market conditions may begin with a rigorous analysis of project viability and the creation of a conservative financial structure, it does not end there. TCC understands that to effectively adapt to market conditions, a project must also be environmentally sustainable and include the features that today's tenants and investors are demanding.
"We are a member of the U.S. Green Building Council. We have 34 LEED-accredited professionals on staff. We have developed 40 million square feet of projects that are LEED certified, seeking LEED certification or have sustainable elements, so we view ourselves as a leader in sustainability," says Khourie. For example, in Denver, TCC's Riverview at 1700 Platte office building will feature the first rain garden in the metro Denver area.
Rain gardens are environmentally sound solutions to managing urban stormwater runoff by mimicking the natural absorption and pollutant removal abilities of a forest or meadow in an urban setting. The rain garden will help the project meet its stormwater quality requirements while giving the building occupants the benefit of a natural, low-maintenance, landscaped element. In addition, the building will feature a green wall on the north side of the lobby. This two-story-high, approximately 420-square-foot planted wall will provide a unique architectural feature while also improving air quality, creating an acoustic buffer and beautifying the common area.
TCC also adapts to market conditions by developing buildings that possess cutting-edge technological features combined with timeless design. "We think innovatively, but act practically," says Khourie. Last year, TCC completed construction of a 1.7 million-square-foot mixed-use campus for TechnipFMC (formerly FMC Technologies). As part of this project, TCC managed the implementation of the Construction Operations Building Information Exchange (COBie) standard using a project-specific execution plan.
The process involved capturing and validating extensive design schedule and equipment data for eight facilities and then importing the data into an integrated workplace management system (IWMS) prior to substantial completion. The successful implementation of the COBie standard provided TechnipFMC's facilities team access to secure and reliable as-built floor plans, equipment lists, product data sheets, warranties, spare parts lists, and preventive maintenance schedules — information essential to managing a large campus in a safe, reliable and cost-efficient manner.
Diversity and Inclusion
TCC believes adapting to market conditions also requires strong diversity and inclusion efforts to ensure that the company reflects the changing mix of tenants and communities it serves and to bring the best people in the industry, with diverse thinking and new perspectives, into the company. TCC has initiated four programs in this area:
1) A Diversity and Inclusion Initiative. This initiative emphasizes making the company a better place to work for all employees, a place where everyone feels they have an equal opportunity to be part of the fabric of the company and to play a role in shaping its future.
2) A Professional Women's Network. The Women's Network connects and advocates for professional women throughout TCC. Its goal is to create a sense of community for all female employees, provide opportunities for professional development through mentorship and networking, and recruit and empower women to create an atmosphere in which women can thrive.
3) The Ambassador Program. This program is structured to encourage more participation by TCC team members within affinity groups, those linked by a common interest or purpose, throughout the real estate industry. Ambassadors have participated in LGBTQ organizations and clubs, Commercial Real Estate Women (CREW), veterans and military employee groups, NAIOP's Commercial Real Estate Diversity Roundtable and internal groups, including CBRE's African-American Network Group and Women's Network.
4) Impact Circles. An offshoot of the Professional Women's Network, this program encourages smaller groups of women throughout the company to participate in monthly phone calls during which they discuss various topics, including best practices and career paths.
On the Horizon
Looking ahead, Khourie expects greater advances in both technology and sustainability, which will challenge TCC to keep pace with evolving tenant and investor requirements and industry best practices.
"Another important trend that we need to keep up with is the growing importance of data," he asserts. "Trammell Crow made a lot of his decisions based on 'gut feel' but today we use real data to drive our decisions on where to invest money and what product types to buy or build. Data is the future of the real estate business."
Matt Khourie has spent much of his career with Trammell Crow Company and CBRE. Looking back, he says, "The choice I made 37 years ago to join this company has brought opportunity, growth and personal fulfillment. I could not have picked better partners and better teammates to spend my life with. TCC has a truly special culture that has taken decades to create: It is a culture that respects the company, the individual and the communities in which we work."
Bob Sulentic, chief executive officer of TCC's parent company, CBRE, adds, "Trammell Crow Company's continued success is driven by a talented team, led by exceptional leaders who build great projects for tenants and owner-occupiers while generating outstanding returns for capital partners."
---
Trammell Crow Company's Impacts On Local Communities and NAIOP
Trammell Crow Company makes its biggest impact on the local communities in which it works through its contributions to the built environment. It uses best-in-class practices to create developments that address the economic, environmental and civic needs of the community.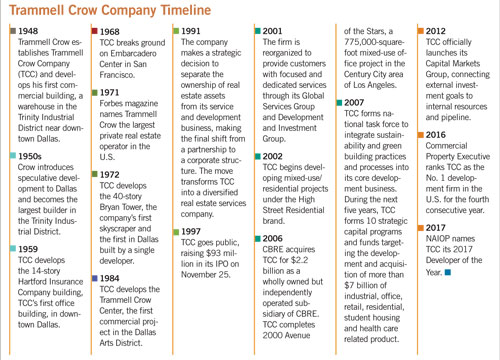 At the same time, TCC's headquarters and all of its offices are involved with their local communities at a granular level. TCC supports many national charities and its employees are actively involved with more than 155 local community and civic organizations. Employees have done everything from selling Christmas trees to raising money to send at-risk youth to summer camps, to participating in a long-distance bike ride that benefitted the Leukemia and Lymphoma Society.
TCC's Dallas-Fort Worth office also transformed a 2,000-square-foot laundromat into classroom space for an overcrowded YMCA preschool. The TCC development team designed and constructed three new classrooms with built-in shelves for storage, added windows to bring in natural light and painted all of the rooms in bright colors. Their work increased the preschool's capacity by 45 percent.
TCC is also a strong supporter of NAIOP, which it views as the nation's leading real estate trade association. It encourages its employees not only to become NAIOP members, but to also take on leadership roles in the association. Sixty-one TCC employees are currently members of NAIOP; four TCC executives are members of NAIOP chapter boards:
Scott Krikorian, senior managing director, is currently president of NAIOP North Texas.
Thomas A. Bak, senior managing director, serves on the board of NAIOP Inland Empire in California and is a former NAIOP SoCal chapter president.
Grady Hamilton, principal, sits on the board of NAIOP Chicago and is a former chapter president.
Campbell Smith, principal, serves on the board of NAIOP DC | MD.
Other former chapter presidents include Aaron Thielhorn, managing director (NAIOP Houston), Denton Walker, senior managing director (NAIOP North Texas) and Kirk Olsen, senior vice president (NAIOP Oregon).