Engaging regional "brand ambassadors" results in authentic placemaking for a mixed-use retail destination in Lexington, Kentucky.
WHILE PLACEMAKING is a hot trend in mixed-use development these days, there's no simple way to do it. There is no quick-and-easy template that can be followed over and over, nor is there a 10-step process that can be managed from a headquarters building in another city.
Placemaking works best if a developer goes deep into the community to build authentic connections by spending time, energy and resources. In Lexington, Kentucky, Bayer Properties recently opened a new mixed-use destination called The Summit at Fritz Farm. During the development phase, Bayer became heavily invested in relationships with key ambassadors in the city to ensure that the developer incorporated local needs into the destination.
These relationships were not one-dimensional; Bayer called on ambassadors for opinions, connections and community insights. They asked them for local and historical context. And they invited the community to help tell the story of Lexington through The Summit at Fritz Farm.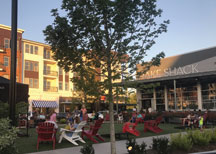 One example is the relationship that Bayer has with world-renowned garden designer and Kentucky native Jon Carloftis. While his naturalized designs have fundamentally shaped the look and feel of the project, the development team has also leveraged his help in a much broader way. He hosted breakfasts at his home for potential tenants and shared his nuanced insights into the community.
Bayer is committed to true placemaking, to creating a development that is authentic and meaningful for Lexington. That does not happen without relationships. The world of retail has changed, and developing an ambassador program with Carloftis and others has been paramount to the success of The Summit at Fritz Farm's transformation from historical farm land to shopping mecca.
Distinctly Lexington
The Summit at Fritz Farm is designed to reflect Lexington's culture of thoroughbred horse breeding and its rich farming history, as well as the rolling Kentucky bluegrass landscapes. The property celebrated its "First Look" on April 27, 2017, with the opening of several best-in-class retailers and chef-driven restaurant concepts. Throughout the summer, the development held a rolling opening in which it opened additional stores and restaurants nearly weekly.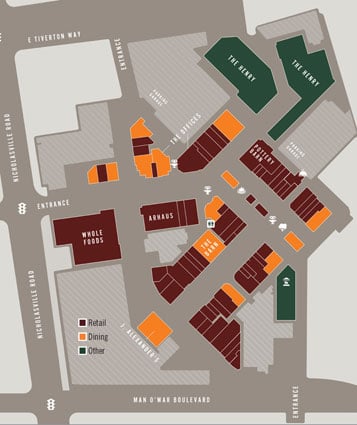 As of early September, more than 50 retail and restaurant tenants are fully operational. The office space, located above ground-floor retail space, is complete and hotel construction is underway, with an expected delivery date in the fourth quarter of 2018. The Henry at Fritz Farm apartments opened to the public in December 2016 and are demanding the highest rental rates in the market.
Upon completion of Phase I by the end of September 2017, the project will feature the following:
• 300,000 square feet of retail and chef-driven restaurant concepts, including the region's first food hall, dubbed The Barn, which will serve as a tribute to local Kentucky cuisine.
• 306 luxury apartments.
• 44,000 square feet of modern office space.
Located on 44 acres with additional surrounding land available for future growth, the $156 million mixed-use experiential development is authentic and faithful to the rich heritage of the property, which was historically operated as a farm, and the beauty of the region.
Fritz Farm dates back to the Revolutionary War, and the property features many beautiful artifacts. Bayer is committed to honoring the heritage of the property and telling its story to a new generation of visitors and residents. In fact, several innovative retailers, including Bonobos, Ariat, Warby Parker and Shake Shack, selected to open new locations at The Summit at Fritz Farm because of Bayer's commitment to offering a localized experience that aligns with their brands.
To ensure authenticity in landscape design and create a sense of place, Bayer engaged Carloftis, an award-winning garden designer, author and lecturer.
The Ambassadors
Three years ago, as Bayer prepared to begin developing this project, members of the development team began to spend an increasing amount of time on the ground in Lexington. Before the company begins any new development, the team cultivates relationships with local influencers and ambassadors to ensure that the mix of tenants will satisfy the needs of the community.
For this development, the company relied heavily on those key influencers to help gain an understanding of the types of development and retail tenants the market needed and how The Summit at Fritz Farm could differentiate itself. Later, Bayer engaged the ambassadors to help them tell the Lexington story to potential tenants as the leasing process began, and to act as a sounding board to ensure the leasing team was targeting the right tenants for the project.
These ambassadors include the Bell family, owners of famed Mill Ridge Farm; George Gatewood, a craftsman and owner of Longwood Antique Woods; Seth DeBolt, a wine, brewing and distillation scientist at the University of Kentucky; and other local stakeholders and influencers.
Chef Ouita Michel, a six-time James Beard award nominee who recently opened her largest restaurant to date, Honeywood at The Summit at Fritz Farm, was an instrumental partner for the project. Throughout the tenant recruitment period, she catered lunches for prospective tenants and helped the development team establish the property as a true foodie destination. Michel will also open a stall in the food hall called Smithtown Express.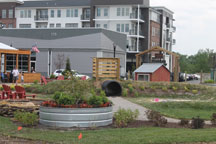 The Bell family also contributed significantly by helping Bayer highlight the economic importance of Lexington's horse farms and racing to the city. Price Bell Jr. is the bloodstock agent for the historic Mill Ridge Farm, a board member of the Kentucky Thoroughbred Association and a sixth-generation thoroughbred estate owner. His tours of Mill Ridge Farm helped showcase for prospective retail tenants the importance of this industry, which brings hundreds of thousands of visitors to the city annually.
In nearly every conversation the Bayer team had with local ambassadors, Carloftis' name emerged as someone who would be a good partner for The Summit at Fritz Farm. His more than 25-year career in gardening began in New York City, where he established himself as one of America's pioneers in rooftop and small-space gardening.
Returning home to Lexington in 2012, Carloftis and his partner Dale Fisher purchased a historic 1851 home that had fallen into disrepair. Within a year, they received the Blue Grass Trust Historic Preservation Award and the Landscape Preservation Award, the highest honors in the state for the preservation, design, stewardship, restoration or enhancement of an historic cultural landscape.
The Bayer team recognized that it would be a natural fit to engage Carloftis for The Summit at Fritz Farm, not only as the official garden designer, but also as an ambassador. They learned that if Carloftis is behind something, it's likely that Lexington will be too.
Farm Chic
Carloftis has been a significant asset for The Summit at Fritz Farm, thanks to his knowledge of the local market. Bayer recruited his expertise to create an authentic environment that is distinctly Lexington — sophisticated yet familiar. The development team continues to engage Carloftis as a sounding board, and his local point of view has had a major impact on the project's design.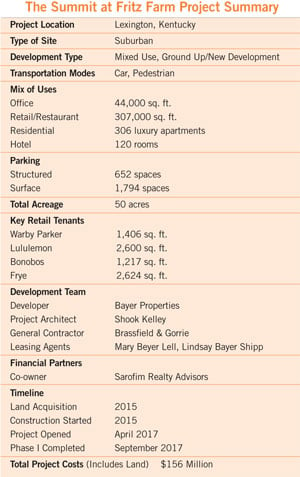 "Farm chic" is the term used to describe the project's design style, which Carloftis crafted along with a landscape architecture team from Nimrod Long & Associates. To create this contemporary yet sophisticated interpretation of farm life, Bayer repurposed period farm implements that were found on and near the property.
Carloftis engaged a local Kentucky prison to help bring these vibrant vintage farm pieces back to life. Prisoners worked with Carloftis to revive the art, equipment and cars. As they did so, they learned skills that should help them gain employment after they exit the prison system.
Carloftis also introduced the Bayer Properties team to Old World Timber, a Lexington barn wood preservationist, which has outfitted all of the furniture and equipment for the interior of The Barn. The company reused much of the property's seasoned barn wood on interiors and for accent areas. And it created engravings of the barn wood, which were used to manufacture custom planters and other accent pieces around the property to evoke the reclaimed wood commonly found at Kentucky's equestrian barns and bourbon distilleries.
The lush landscaping is engaging and whimsical, providing surprises to entertain and delight visitors while also incorporating as many native plants and trees as possible. A sustainable arbor of trees provides drainage for a parking area as well as shade for visitors to enjoy. In the near future, an organic, raised garden bed will encourage chefs and residents to grow fresh herbs and vegetables.
Bayer also enlisted Cynthia Gentry, founder of Play Atlanta, to design a one-of-a-kind, farm-themed playground on the property. The playground incorporates key farm features like a play barn, farm animal climbers, wooden farm vehicles and more.
Throughout the property, pocket parks and other areas offer spaces where people can gather, dine or simply enjoy a quiet moment.
The Lexington Connection
Carloftis has been instrumental in helping Bayer build connections in Lexington beyond the company's ambassadors. He was able to collect local vintage farm equipment from the 1950s, including tractors, tobacco setters, plows, rakes and mowers that were transformed into art that is now displayed throughout the property. These pieces, which form a large design component of the center, attract many visitors taking photographs to post on social media.
The Summit at Fritz Farm will also feature rotating art displays from local artists. Carloftis is helping Bayer identify and create relationships with artists who will showcase Lexington's outstanding craftsmanship and rich history.
While hiring a renowned garden designer for The Summit at Fritz Farm was a significant investment, Bayer feels that the value he brings to the property is well worth it. Potential tenants are attracted to the concept and want to hear the story of how and why the team brought him in. He has helped to ensure that the property will offer the right experience and assisted significantly with the leasing team's efforts. The company views its partnership with Carloftis and all of its ambassadors as something that is much deeper than the typical business relationship; instead they consider these lifelong friendships.