Incorporating agriculture into office and industrial parks can provide multiple benefits for developers, property owners and tenants, including expedited development approvals.
BY 6:30 ON a warm May morning, farmer Matt Sandoval had already picked three varieties of basil on his farm in Northern California. But these crops aren't going to just any farmer's market, and his farm isn't in Napa Valley. It's located in the middle of a business park in Fremont, California, between the Tesla Factory and San Francisco Bay.
The farm originated in 2014 as the brainchild of Rebecca and Rod Fallow, owners of Swagelok Northern California, an industrial equipment supplier. Their plan was to promote healthy eating while providing the firm's sales and service employees with a stunning garden to combat the company's "all-business" setting. They did so by contracting with the urban farming company Farmscape to remove their company's lawn and add an urban farm.
Farmscape worked with the Swagelok team to develop a space that would be beautiful enough to wow prospective clients yet productive enough to regularly send each employee home with fresh organic produce. Farmscape's design included raised garden beds and a 12-tree orchard featuring mulberries, peaches, pluots, apples and figs. To attract the pollinators necessary for production, Farmscape added a border of purple coneflower, blooming catmint, hot pink salvia and native yellow yarrow. After a few weeks, Swagelok had a healthy population of hummingbirds, ladybugs and butterflies.
After the garden had been installed, Sandoval began planting organic crops suitable for the Bay Area's unique microclimate. These include lettuce, radishes, carrots and broccoli in the winter and tomatoes, peppers and squash in the summer. The tomatoes are the main attraction, and he currently grows 10 varieties. Farm-
scape harvests all produce and brings it inside for free distribution to the Swagelok staff. Says owner Rod Fallow, "every week, employees receive a harvest of 25 to 50 pounds of fresh, organic fruits and vegetables" to take home and enjoy.
Since the garden's inception, the Fallows have expanded the project twice, and it now wraps around the entire facility, inspiring neighbors to do the same. Across the street, Mentor Graphics, a software business unit of Seimens, added an urban farm in 2015, where it grows fresh food for its cafe.
The Farmscape Movement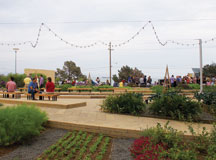 In 2008, several colleagues who were dabbling in organic gardening, managing small organic farms or running community-supported agriculture initiatives (CSAs), teamed up to create Farmscape. Since its inception, Farmscape has designed and installed more than 700 projects across California. New projects are now underway in other states. Farmscape's staff has swelled from five to 40 as they manage such disparate projects as the rooftop of Levi's Stadium, lovingly dubbed "Faithful Farm," to the campus of The North Face and Michelin-star chef Niki Nakayama's front-yard kitchen garden.
Working alongside construction teams, architects and developers from conceptual design to installation, Farmscape also has an active presence at city council meetings. The company's early involvement helps make residents who might oppose construction aware of the multiple benefits that edible gardens give to the neighborhood and land valuations.
Neighbors are more supportive of a Farmscape development, which helps those developments generate faster city approvals and, ultimately, quicker — and more cost-effective — turnarounds in building and construction. Farmscape CEO Dan Allen clarifies, "We work with clients through the full entitlement process, at city council review meetings and question-and-answer sessions with community members."
Once approvals are granted, Farmscape collaborates with the installation teams to build and plant the raised beds. After completion, the company's local farmers maintain the gardens, orchards and vineyards, while also encouraging clients to get their hands dirty during breaks in their workdays.
Return on Investment
Design costs for edible garden beds at an office or industrial park typically range between $5,000 and $25,000, with installation starting at $20,000 and going northward of $500,000 for large corporate campuses. These amounts are akin to traditional costs for landscape projects. However, Farmscape offers plenty of return on investment. As landscape economist John Harris told Realty Times, top-quality landscaping can add up to 28 percent to the value of a home, and a similar return can be expected for attractively landscaped commercial properties.
Corporations have confirmed that business is stronger as potential clients request tours of the gardens, which provide a natural setting in which they can conduct business. Additionally, maintenance costs are 25 percent lower, compared to traditional landscaping, as native plants are the focus and maintain longer, natural life cycles. As Rod Fallow states, "water costs for the garden are far less than they were for the grass." Finally, Farmscape can grow 1 to 3 pounds of fresh organic produce per square foot annually, and the company grows thousands of pounds of fresh produce each year at its many small, scattered locations.
A Magnet for Business Growth
Across the Bay at 499 Illinois Street in Mission Bay, another Farmscape garden is in full production. Its produce heads inside to Stem Kitchen & Garden, a farm-to-table restaurant operated by Bon Appétit Management Company, a sustainable corporate dining company. The garden has become a centerpiece of the restaurant, providing tons of food for Stem while functioning as the heart and soul of this approximately 223,000-square-foot building developed by Alexandria Real Estate Equities Inc. A vegetable garden may seem an unusual landscaping choice for a laboratory and office building that houses many leading biotech companies but, as Jason Beck, an assistant vice president with Alexandria, points out, "We want to create a healthy and fun environment for our tenants."
Alexandria also has gardens in New York City and San Diego, and Bon Appétit adds gardens to many of its corporate and university cafes around the country. Says Bon Appétit CEO Fedele Bauccio, "Having an on-site 'kitchen garden' serves two very important functions: it reminds people where food comes from — the soil, not the grocery store — and it gives our chefs the freshest, most flavorful ingredients possible to spark their creativity." These industry leaders know intuitively that good food makes good places, and Farmscape is happy to bring these projects to fruition.