A shopping center owner uses digital technology to transform a traditional retail center into a vibrant community hub.
WALK THROUGH The Shops at South Town near Salt Lake City, Utah, and you'll find toddlers, millennials and senior citizens taking a break from shopping at digital screens throughout the center. Young and old alike interact with the touch screens, enjoying games, live feeds and art, gathering together in open spaces that encourage connection and social interaction.
In 2015, property owner Pacific Retail Capital Partners decided to undertake a renovation project to encourage shoppers to spend more time and, consequently, more dollars, at The Shops at South Town. The company has used technology to turn a traditional retail center into a vibrant community hub. The 1.3 million-square-foot shopping center's multimillion-dollar renovation included a distinctive digital sensory experience — the first of its kind in the state — that has driven additional traffic to its restaurant and retail tenants.
In this ever-changing retail world, digital, mobile and physical shopping experiences need to work in sync. People's social lives now take place in both the physical and digital worlds. Building environments that use technology to embrace both of these worlds are the key to the future of shopping center experiences. Combining need-based offerings with interactive, customized, personalized and social experiences appeals to both sides of the customer coin.
The Digital Experience
Highlights of the new digital sensory experience at The Shops at South Town include the following:
A ShareRails O2O (online-to-offline) software application that transforms center retailers' inventory data into digital content, which makes it possible for shoppers to find products for sale at the center in their online searches on Google and other search engines. This enables the center's brick-and-mortar retailers to compete with online giants.
Six digital directories feature touch screen technology, real-time deals from guests' favorite stores, social interaction, live streaming, beacon technology, selfie photo capabilities and mobile app functionality.
A 13-foot by six-foot, ultra-high resolution interactive play wall offers unique gaming options that include a custom-developed emoji game created by Pacific Retail and Quince Imaging Inc. with input from Generation Z, those born roughly between 1995 and 2014.
A massive multimedia wall displays movies, sporting events, livestreams, digital art and other entertainment options. The multimedia wall also displays, in near real time, answers to text inquiries received from shoppers.
The displays and seamless online to in-person shopping experience were an instant hit with guests. The technology blends seamlessly into the center's modern architecture and design, and is presented in ways that are intuitive to users, so customers aren't overwhelmed.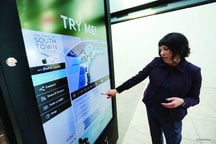 Forecasting the Future
Skeptics may wonder if too much technology might detract from the ultimate goal of store sales. From a business perspective, research continues to indicate that time spent in a shopping center correlates directly with dollars spent. But there's another important component to this equation: retention. The more Pacific Retail can retain loyal patrons and encourage them to bring others, of all ages, to build memories with them, the more successful the center and its tenants will be. This, in turn, creates more value for the asset.
Future Projects
As The Shops at South Town moves into a second phase of redevelopment with the opening of additional digital entertainment options such as Round 1 Bowling & Amusement, the positive experience gained by offering customers exclusive, technologically savvy experiences proves that digital integration will continue to grow.
Utah was the test market for this innovative digital sensory experience. Pacific Retail will confidently launch similar digital enhancements at additional shopping centers across the nation, beginning with Eastridge Center in San Jose, California, at the end of 2017. The rebirth of brick-and-mortar retail will continue as developers, retailers and cities recognize the importance of creating timeless and enduring shopping experiences. People want to engage, feel a sense of community and be proud of their local shopping destinations.
Retailers also need to listen to their guests when it comes to deciphering which technological innovations are best for a particular shopping center. As a national developer, Pacific Retail Capital Partners plans to customize the technology offerings it chooses for other communities and markets.
Retail centers will likely continue to experience a hybrid approach to store design, footprint efficiency and online integration. Developers, property owners and retailers all must focus on making it easier for shoppers to buy through an omnichannel experience that integrates the entire search and purchase process, from smartphone to laptop to store — or any other combination — so that customers can leave a shopping center with the best-selling items, have other items shipped directly to their homes and/or easily return goods. This is the future of shopping.