Five years, a coalition of more than 55 organizations and 41 mayors, nearly $900,000 spent on social media and communications, and countless hours at the negotiating table finally resulted in victory around the issue of "construction defects litigation reform" in Colorado.
OVER THE PAST 10 years, Colorado experienced a dramatic growth in population along with the relocation of many company headquarters to the state. It now sits atop or near the top of many "Best of" lists. One list that the state did not want to sit atop was the list of "the most expensive places to live, not located on a coast." Yet median housing prices in the metro Denver area have exceeded $488,000, and median housing prices in Boulder have topped $1 million.
The Problem
Why is housing so expensive in Colorado? A major part of the problem is that because of the litigation prospects for multifamily, for-sale housing — that is, condominiums — this important entry-level housing product just isn't being developed in Colorado. Anyone who develops a condo project is inevitably sued. While the percent of new housing permits issued for condos and townhouses in the Denver metro area was similar until 2008/2009, when 26 percent of the permits issued were for condos and 24 were for townhouses, by the second quarter of 2016 only 3 percent were for condos, compared to 22 percent for townhouses, according to Metrostudy. And the condos that are being built are all in the luxury category. Colorado has essentially eliminated an entire product type.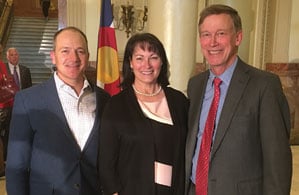 This lack of entry-level housing caused a downstream problem — overdevelopment of apartment units — because people who would have migrated to homeownership at the first opportunity are being forced into apartments. This, in turn, forces apartment lease rates to skyrocket out of the reach of many millennials and the general workforce.
How did this happen? It became very profitable for plaintiffs' firms to approach homeowner association boards to suggest that any "construction defect" shouldn't be dealt with by the builder or developer, but rather should become grounds for a lawsuit. The homeowner association boards, which generally consist of three to seven members, could vote on their own to take a development into a lawsuit, often without even notifying individual homeowners. Many homeowners discovered their properties were encumbered because of a lawsuit, but only after they tried to refinance or sell their home and were told they couldn't.
In addition, although many development documents contain a requirement for arbitration, the homeowner association board could solicit a vote to remove that requirement, so that the case could be taken to a jury trial. These jury trials often ended with significant awards against the development parties and their insurance companies. The frequency of these claims, combined with the size of the awards, caused many insurance companies to exit the market and left others with no choice but to increase rates significantly.
For the past five years, NAIOP Colorado has been a member of the Homeownership Opportunity Alliance (HOA), a coalition of 55 organizations that includes developers as well as housing advocates such as Housing Colorado, Habitat for Humanity and Hope Communities. It also includes the Metro Mayors Caucus, a voluntary collaboration of metropolitan Denver's 41 mayors.
The HOA has actively pursued a legislative fix to this litigation conundrum. It quickly became clear, however, that the divided legislature that Colorado has enjoyed for the past four years would present a high bar for success. After three years of failed attempts to get a bill passed, 2016 proved to be the low point, as the HOA failed to even get a bill introduced.
The Solution
I became cochair of the HOA in 2017, along with former State Sen. Mike Kopp, the CEO of Colorado Concern, an alliance of executives that seeks to enhance and protect the state's business climate. Together, we worked with HOA members and Republican State Sen. Owen Hill to draft a bill that included a requirement to consider arbitration along with an informed consent requirement. Hill introduced Senate Bill 17-156, and it passed the Republican-held Senate with strong bipartisan support. It then was sent to the Democratic-held House, where its fate was sealed owing to the lack of Democratic support for the arbitration section. It looked as if 2017 would be another year of frustration and inaction.
A variety of other bills had been introduced on this issue because it was a major priority for both the speaker of the House and the president of the Senate. These included House Bill 17-1279. Democratic State Rep. Alec Garnett and Republican State Rep. Lori Saine had introduced the bill with just the informed consent requirement. Garnett and Saine, along with Republican State Rep. Cole Wist, encouraged the opposing sides to work on this bill, and they participated heavily in shuttle diplomacy. Kopp and I pushed the coalition to find a way to say "yes." As late as the afternoon of the final negotiations, Garnett was having difficulty getting his side back to the table. But he was diligent, and the final meeting lasted well into the early morning. According to Kopp, "I would say if there was a singular act of legislative merit, it was the statecraft of Alec Garnett."
Although the final bill didn't include the arbitration section, it did include the requirement for a meeting of all homeowners where both sides can present their arguments and then vote on whether to proceed. "I'd say this bill is a standing triple, and that's pretty good work," says Kopp. "Sometimes the most important part of persuasion is listening. And we stopped listening about this issue for years. We started listening again this year," says Wist.
The governor signed HB 17-1279 into law on May 23. On June 5, the Colorado Supreme Court gave us the home run we were hoping for by upholding the Colorado Court of Appeals 2015 ruling in a case that gave the developer declarant the ability to require its consent to amend the declarations. In other words, the declarations cannot be changed by a simple vote of the board or the homeowners without the consent of the developer. The court also held that Colorado Consumer Protection Act claims are subject to arbitration.
Business leaders caution that it will likely take time for the housing stock to rebalance, but they agree that this ruling is a significant step forward. Although at the HB 17-1279 bill signing the governor made it sound as if people were just going to rush down and get backhoes in the ground tomorrow, there's a process to go through. That process could take a couple of years. But without HB 17-1279 and the Supreme Court ruling, we knew the problem would only get worse.
"You have now what the developers and the industry have spent five years asking for," Garnett says, "so I think it's on the development community to start meeting pent-up demand. It will take some time, but the pieces are now in place for development to happen."
Kathie Barstnar is the executive director of NAIOP Colorado.