NAIOP Industrial Space Forecast: Still-hot Industrial Commercial Real Estate Showing Signs of Cooling
WASHINGTON, D.C.– The industrial real estate market showed signs of slowing after an unprecedented expansion, according to the latest NAIOP Industrial Space Demand Forecast, released today.
According to the report, "amid lower pressure on global supply chains, increasing inventory carrying costs, a cooling economy, and a decrease in the rate of e-commerce expansion, retailers and logistics firms have slowed the rate at which they acquired additional industrial space this year. Net absorption of industrial space in the first two quarters of 2022 was 151.2 million square feet, down sharply from 2021's record pace but still notably higher than in prior years."
The report projects that the still-hot industrial market will cool and the net absorption rate will continue to decline until it returns to the pre-pandemic trend. Total net absorption of industrial space in the second half of 2022 is forecast to be 112.4 million square feet, and full-year absorption in 2023 is forecast to be 209.4 million square feet.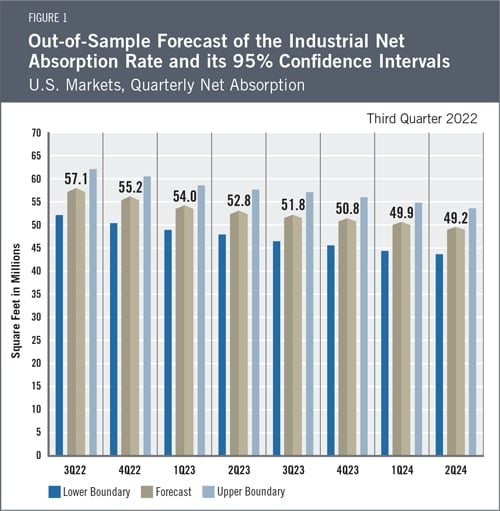 The report's authors, Hany Guirguis, PhD, Professor, Economics and Finance, Manhattan College and Michael J. Seiler, DBA, J.E. Zollinger Professor of Real Estate & Finance, College of William & Mary, cited several factors contributing to the forecast:
Supply chain congestion eased during the first half of 2022, as illustrated by the decline in the Federal Reserve Bank of New York's Global Supply Chain Pressure Index from 4.35 in December 2021 to 2.41 in June 2022. As a result, retailers and logistics firms have shown less interest in leasing or buying industrial space before it is needed, a trend that contributed to higher absorption in 2021. Amazon's decision to substantially scale back its expansion plans is the most prominent example of this shift in demand for industrial space.
As supply chain backlogs continue to improve, the delivery of new industrial space has absorbed some of the pent-up demand. Yet the demand for new space still has the markets out of equilibrium, a trend likely to continue for at least several quarters. Rising interest rates are increasing borrowing and inventory carrying costs for industrial tenants, limiting their appetite for distribution space, and a possible recession would further soften demand.
On the positive side, smaller e-commerce firms, and even traditional retailers, continue to lease more distribution space despite slowing e-commerce growth as more consumers return to shopping at bricks-and-mortar retail. Industrial vacancy rates remain historically low as the ability to supply new space continues to face physical and political limitations in land-constrained markets. These low vacancy rates continue to cause asking rents, and ultimately transaction prices, to increase. Premium prices are being paid for properties with soon-to-expire leases and even vacancies as they allow owners to lease out more space at record-high market rates.
"On balance, there may be a leveling off in the industrial real estate sector that is a healthy rebalancing of where things should be when viewed through a long-term historical perspective," said NAIOP President and CEO Marc Selvitelli, CAE. "The sector saw unprecedented growth that had been accelerated by the pandemic and related supply chain issues. As those two situations unwind, we will see a more natural course of growth."
Download the full NAIOP Industrial Space Demand Forecast, Third Quarter 2022, report.
# # #
About NAIOP: NAIOP, the Commercial Real Estate Development Association is the leading organization for developers, owners, investors and related professionals in office, industrial, retail, and mixed-use real estate. NAIOP provides unparalleled industry networking and education and advocates for effective legislation on behalf of our members. NAIOP advances responsible, sustainable development that creates jobs and benefits the communities in which our members work and live. For more information, visit naiop.org.
NAIOP Contact:
Kathryn Hamilton, NAIOP vice president for marketing and communications
703-904-7100, ext. 165
hamilton@naiop.org
David Harrison
Harrison Communications
410-804-1728
david@harrisoncommunications.net