Ziance Honored for Excellence in Economic Development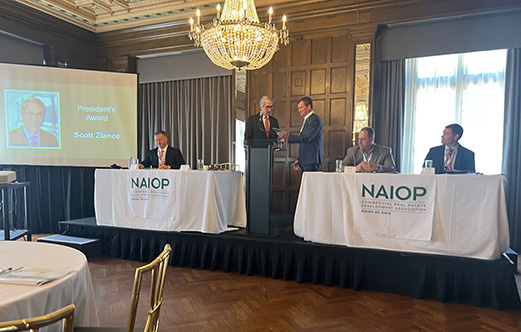 April 26, 2023
COLUMBUS, Ohio – Central Ohio's Scott Ziance was announced as the inaugural recipient of the NAIOP of Ohio President's Award for Excellence during the organization's annual Legislative Day at the Ohio Statehouse. Established in 2023, the award is given to a member of the statewide organization that has demonstrated excellence both in their professional career and committed service to the organization.
Having achieved emeritus status after his 2018-19 tenure as Board President, Ziance has remained actively involved on public policy development and spearheaded the organization's formation of its first Political Action Committee. At the national level, he serves on the Corporate Board of Directors, State and Local Subcommittee and co-authored an article featuring a four-pronged approach to state and local economic development incentives.
"NAIOP of Ohio is incredibly fortunate to have accomplished professionals serving on the Board for the betterment of economic development in our state and Scott has set the bar through his years of commitment to the organization," said Josh Gerth, President of NAIOP of Ohio. "Whether it is meeting directly with our lawmakers or sharing best practices amongst his colleagues, I believe it's important that we honor members like Scott that consistently lead by example."
"By developing the places in which we work, live and play, NAIOP members improve our communities," said Ziance. "It continues to be an honor to advocate for the interests of commercial real estate developers. I'm so honored to receive this award."
A partner in the Columbus office of Vorys, Sater, Seymour and Pease LLP, Ziance leads the firm's national economic development incentives practice where he focuses on the utilization of economic development incentives, tax incentives, economic development financing mechanisms, and public-private partnerships.
###
About NAIOP of Ohio
NAIOP of Ohio, the Commercial Real Estate Development Association, is the leading statewide organization for developers, owners and related professionals in office, industrial and mixed-use real estate.
Media Contact: Abe Jacob
(419)789-2516
aj@mattkallner.com