Labor shortages affect 81% of contractors across the U.S. — and they don't see the problem improving any time soon.
Commercial project developers and owners may need to brace themselves for higher prices and extended delivery times due to shortages of qualified construction labor, even though other costs have remained subdued.
The 2019 Autodesk-Associated General Contractors of America Workforce Survey, which AGC released in August, showed that contractors overwhelmingly expect to continue hiring in the new year but also that filling most hourly craft positions is getting more difficult. As a result, many firms have run into unanticipated costs and longer project completion times, and they are now adjusting bids for new projects accordingly.
Difficulty Filling Positions
The survey gathered input from nearly 2,000 contractors nationwide that perform every type of construction other than single-family, including 994 respondents whose firms do building construction. Of those firms, more than nine out of 10 expect to hire hourly craft personnel in the next 12 months (77% for replacement and 15% for expansion). But roughly four-fifths of the respondents (81%) say they are having a hard time filling craft positions, while three-fifths (59%) say the same about salaried positions.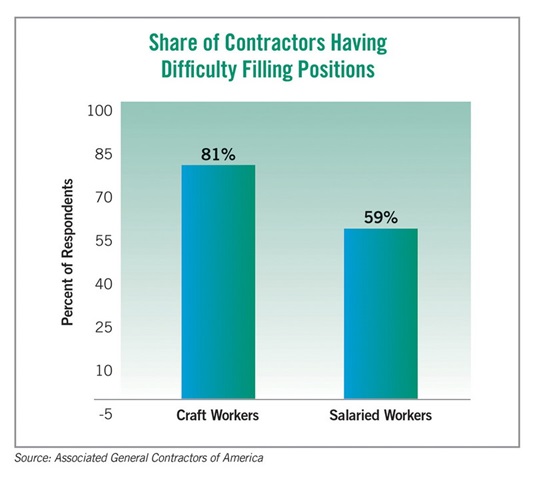 The worker shortages were pervasive across occupations. Respondents were asked about 20 specific craft positions. For all but one (traffic control personnel), building contractors reported that positions were harder to fill than a year ago. Nearly half (49%) of building construction firms also said project managers or supervisors were harder to find than a year earlier.
Contractors do not expect relief any time soon. Three out of four building contractors (74%) say they expect it will continue to be hard to hire craft workers or will become harder to do so in the next 12 months. More than half the respondents (57%) say salaried personnel will be as hard or harder to hire.
These results are consistent with government data. Bureau of Labor Statistics (BLS) reports show that the number of job openings in construction (including single-family) has set a record for each month so far in 2019. At the same time, the number of unemployed workers with recent construction experience has hovered near a 20-year low for each month. (The data is not adjusted for seasonal variation, so openings and unemployment in a given month should be compared only to the same month in prior years, not across months.)
In fact, the 373,000 openings in construction at the end of July exceeded the 361,000 job-hunters with construction experience in August. In other words, even if every one of those job-seekers had been in the right location with the right qualifications, contractors would still have had unfilled openings.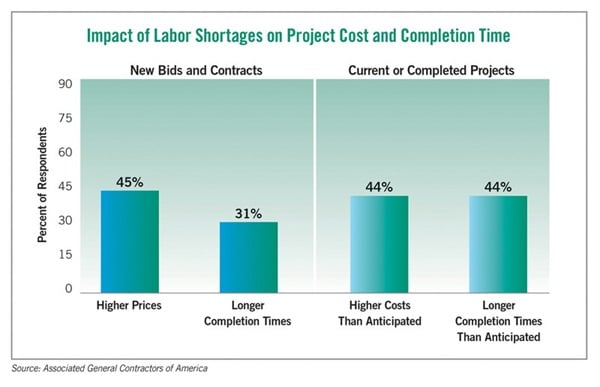 It's no wonder, then, that 44% of the building contractors in AGC's survey that were experiencing staffing challenges said costs had been higher than anticipated, presumably because they were spending more to recruit, train and retain workers and more on overtime to make up for the unfilled positions. An identical percentage said projects had taken longer than anticipated. In reaction, 45% said they had put higher prices into their bids or contracts, and 31% had quoted longer completion times.
PPI Reveals Rising Prices, Too
Another BLS series, the producer price index (PPI) for nonresidential buildings, also shows bid prices are climbing. BLS constructs the index by asking a fixed group of contractors each month what they would charge to erect the same set of school, warehouse, office, industrial (manufacturing) and health care buildings. That index has been rising at a 5.6% year-over-year rate in recent months. Indexes covering new repair and maintenance work by subcontractors are also rising significantly.
The takeaway is that contractors are struggling to find qualified workers in an increasingly tight and aging labor market. They expect those difficulties to continue, if not intensify, and they are passing along their higher labor-related costs to owners who are developing or renovating buildings.
Ken Simonson is the chief economist for the Associated General Contractors of America. He may be reached at simonsonk@agc.org.