Shared office space appears to be the fastest-growing trend in commercial real estate.
The rapid growth in coworking, which has forced commercial real estate companies to rethink how they plan and deploy office space, doesn't appear to be slowing down anytime soon.
A recent JLL report, "Coworking's Unstoppable Market Growth," finds that flexible office space, which includes coworking, has been growing at an average annual rate of 23% since 2010. During the past 24 months, growth in flexible office space claimed 29.4% of total U.S. office absorption — about 18.1 million square feet.
"No segment of the market has demonstrated more overall growth than the coworking industry," the JLL report states. "Given the massive amount of venture capital that's being poured into the sector, this aggressive growth rate shows no signs of slowing."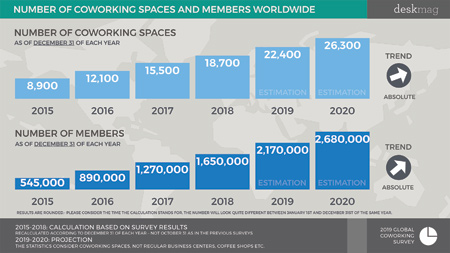 In 2018, coworking grew by approximately 20% around the world, according to the 2019 Global Coworking Survey from Deskmag, a publication that focuses on coworking. By the end of 2019, about 2.2 million people could be working in more than 22,000 coworking spaces worldwide, the survey finds. By comparison, there were just 8,900 such spaces globally in 2015.
Coworking appears to be growing even more rapidly in major American cities. A December 2018 Yardi Matrix study of 20 U.S. metros found that 43.5 million square feet of office space was being rented as shared space. By comparison, the first Yardi Matrix study, which took place in the fourth quarter of 2017, identified 26.9 million square feet of shared space in those same metros. That's an increase of 61.7% in just 12 months.
Globally, coworking locations had an average of 185 members per site in 2019, according to Deskmag's survey. That's up from 159 in 2018. At the same time, the average size of a coworking space has shrunk, from 15,760 square feet in 2018 to 11,450 square feet in 2019, the survey found.
While major metro areas represent the bulk of coworking's growth, smaller regions are also getting in on the act.
The Global Coworking Growth Study 2019 by Coworking Resources shows that less populous states such as Vermont, Montana and Colorado have shown strong growth. In Vermont, 12.1 coworking spaces per 1 million people open each year. In Montana, that figure is 8.5, and it's 8 in Colorado.
"These states have all experienced recent booms in small businesses and have received an influx of tech startups moving from other states where taxes and operating costs are more expensive," the report states.
Why It's Booming
There are many reasons for coworking's rapid growth, but by far the biggest is the flexibility it presents to tenants.
"For smaller entrepreneurial businesses, it allows them to occupy a Class A environment for basically the same 'occupancy cost' (not rental rate) as a Class B to B- space," said Daniel Levison, principal at SharedSpace, a coworking provider in Atlanta. "For larger corporations starting to utilize coworking, it also provides part of the answer that all CEOs are having to ask themselves today — how do we keep and attract top talent, especially if they are under 35."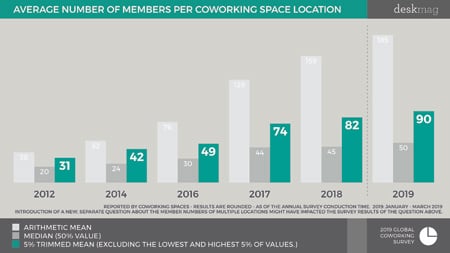 That flexibility also appeals to CRE professionals, although there are major differences compared to working with traditional office space.
"For a broker, coworking can actually make more money," Levison said. "Almost every coworking company pays around a 10% brokerage fee. The problem is it's an annuity, not a cash-out."
For owners and landlords, Levison said the shorter leases in coworking spaces can also be challenging.
"You provide a lot more services compared to a traditional tenant," he said. "But if tenants/members don't like something, they can make knee-jerk emotional decisions and leave. With longer leasing terms, if a tenant gets upset for whatever reason, you have time to make it right."
However, there can also be a significant financial payoff.
"For a developer or an asset owner, if they've got safe, traditional leases locked in making $70 per square foot in a Class A building in Manhattan, they could make $300 per square foot if they go into coworking," said Bart Leslie, a business and management consultant who was quoted in a March 2019 Yardi Kube e-book, "Converting Vacant Space to Shared Space."
Levison said another huge benefit of coworking from an owner/landlord perspective is that it allows a current tenant to expand and contract without having to consider relocating. That makes buildings "stickier."
"It also can allow you to grow some coworking members into traditional-term tenants," he said. "Or it can help you place a tenant who might want to move into your building, but the space they want requires retrofits for their needs. You can offer to provide them temporary space in a coworking environment while the work is being completed."
The WeWork Phenomenon
While there are hundreds of companies delivering coworking spaces, WeWork is the biggest. The company has more than 700 locations in 124 cities around the world representing 45 million square feet of space, and it is now the largest office tenant in New York, London and Washington, D.C.
The company is known for its amenities (high-speed internet, unique common areas, complimentary coffee and beer), but the cost savings it offers to small businesses might be the real secret of its appeal.
In April 2019, the company produced its first-ever Global Impact Report in collaboration with HR&A Advisors, Inc., an economic development and public-policy consulting firm. According to its research, a company of four can save an average of $24,000 a year on occupancy costs using WeWork.
In August, WeWork released its IPO prospectus, raising anticipation for what could be the biggest initial public offering since Uber in May. The documents show that the company considers coworking to be a global market opportunity worth $1.6 trillion.
WeWork is currently valued at about $47 billion, according to the Financial Times (FT), but it is also a big money loser. According to FT, the company lost $700 million in the first quarter of 2019, even though it projects 2020 revenues of $3 billion. However, WeWork executives told the New York Times in March that those losses "were a sign of the company's giant ambitions."
"We're looking at building this business out, not just maximizing profitability over the next one to two years," Michael Gross, the company's vice chairman, told the newspaper.
Trey Barrineau is the managing editor of Development magazine.