Six members of the inaugural group assume greater responsibilities for shaping the association's Research Foundation.
In 2017, the NAIOP Research Foundation created the Visionaries program to recognize outstanding real estate professionals in the early stages of their careers. Foundation leaders, known as Governors, mentor participants, who can also be part of Foundation committees. Visionaries also develop camaraderie and meaningful connections with each other.
The inaugural class of 10 young professionals tapped to take part in the Visionaries program represented different geographic regions and diverse disciplines within the commercial real estate industry.
The Next Step
Three years later, that first group of 10 has doubled to 20, and in July, NAIOP announced that six of them have chosen to become Research Foundation Governors. It's a lifetime appointment for those NAIOP members who have demonstrated their commitment to the Foundation's mission by making a substantial contribution to its endowment fund. As Governors, they will be able to take their engagement with NAIOP to a deeper level by sharing their thought leadership and lending their expertise to shape the Foundation's research agenda.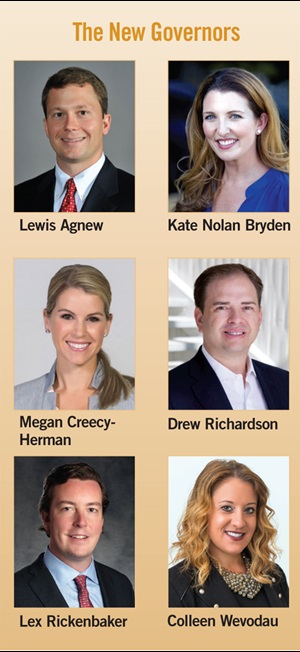 The new Governors are Lewis Agnew, CCIM, president, Charles Hawkins Co., Nashville; Kate Nolan Bryden, vice president of development, MRP Industrial, Baltimore; Megan Creecy-Herman, vice president, market officer, Prologis, Scottsdale, Arizona; Drew Richardson, director of leasing and property management, Primera Companies, LLC, Dallas; Lex Rickenbaker, executive director – investments, USAA Real Estate Company, Atlanta; and Colleen Wevodau, partner, Baker Tilly Virchow Krause, LLP, Vienna, Virginia.
"I am exceptionally pleased that these six individuals, all part of our inaugural cohort of Visionaries, elected to become Governors," said Marc Selvitelli, CAE, executive director of the NAIOP Research Foundation. "Their industry experience and involvement the past three years as Visionaries make them outstanding additions to an already impressive group of Research Foundation Governors."
Barbara Schaefer McDuffie, managing director with Baker Tilly in Vienna, Virginia, is the chair of NAIOP's Visionaries committee and had a significant role in conceiving the Visionaries program. She said it was launched with the hope that all Visionaries would become Governors at the end of their three-year terms.
"When I became a Governor, I realized that the majority of the Governors were over 50 or 60," she said. "In order to have a sustainable model, I felt we needed to encourage NAIOP members under the age of 40 to engage with the Governors for three years so they might understand the value of the Foundation. At the same time, they would gain industry knowledge through interaction with the Governors. To ensure that interaction happened, we also instituted a mentor program, whereby Visionaries can select several Governors as their mentor each year. This has been valuable for the Visionaries, but also for the Governors. We never stop learning!"
Mentorships That Matter
Creecy-Herman, who is also a member of the NAIOP Board of Directors, said she would highly recommend the Visionaries program to her peers in NAIOP.
"I am continually impressed with the quality of the research, the events, the overall program and how many doors it can open for future CRE leaders," she said.
Agnew said one of the biggest benefits of the Visionaries program has been the mentorship opportunities.
"This allowed me to meet a wider selection of governors than I had previously gotten to know, and the scheduled calls and meetings enabled deeper connections," he said. "Professionally, it is always good to spend time around smart, accomplished professionals, and I have learned a lot through my involvement with the Research Foundation. Personally, I've enjoyed the friendships and relationships that have been formed."
Those personal connections also informed his decision to become a Governor.
"Real estate is a relationship business, and the more involved I became with the Visionaries program, the more I appreciated the caliber of the other Visionaries and Governors," Agnew said. "It was relatively easy to decide that I'd like to spend more time with folks like that. Furthermore, the work and research reports that are published through the Foundation are cutting-edge topics that have helped me grow and learn."
For Wevodau, her experience in the Visionaries program directly inspired her to become a Governor.
"Based on the relationships I have already formed in the Visionaries program, I knew being a Governor would only take these relationships a step further," she said. "Being a Governor would increase my exposure, allow me to interact with leaders and ultimately expand my commercial real estate knowledge and business expertise."
Much like Agnew, Wevodau cited the ability to have one-on-one interactions with industry veterans as perhaps the biggest benefit of the Visionaries program.
"I have access to some of the top leaders in the industry," she said. "I have the opportunity to interact with them and ask them questions and simply just learn from them through several of the meetings the Visionaries attend. To help facilitate the conversations, we actually select up to three mentors a year, which allows us to have more personable and in-depth conversations. As a Visionary, it's all about learning and absorbing as much as you can from others, and the program does just that."
And beyond education and networking, there's a pleasant social aspect that provides opportunities for members of both programs to get to know one another on a personal level.
"There are very enjoyable Foundation dinner events at the fall and spring conferences, but we Visionaries have had so much fun that we are getting together on our own for the next conference," Agnew said.
The NAIOP Research Foundation was established in 2000 as a 501(c)(3) organization that accepts tax-deductible contributions. Its mission is to provide practical research and education that allows commercial real estate owners and developers to successfully capitalize on new trends and address challenges in the industry.
Trey Barrineau is the managing editor of Development magazine.
---