623,000 sq. ft.
Ridgeline Property Group's newest development, Chariot Logistics Center, will be a three-building, 623,000-square-foot industrial project in Melrose Park, Illinois. Scheduled for completion in the fourth quarter of 2019, it will offer 32-foot clear height, modern building designs, ample parking and flexible sizing. Buildings will range in size from 135,000 square feet to 252,000 square feet. The 42-acre site is just 7 miles from O'Hare International Airport and 13 miles from the city of Chicago. It has excellent access to I-290, I-294 and I-88. The leasing team anticipates strong interest from e-commerce, last-mile service providers, food/cold storage, manufacturing, warehouse and distribution tenants.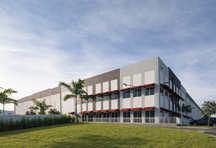 325,000 sq. ft.
Ware Malcomb recently completed construction on the office and manufacturing facility of CGI Windows and Doors within the Countyline Corporate Park in Hialeah, Florida. Ware Malcomb designed the new 325,000-square-foot concrete tilt-up building with a neutral color palette of warm tones and white. CGI Windows and Doors recently relocated to the new facility from a smaller location in Miami in order to accommodate the company's growth. Ware Malcomb previously provided master planning services for the overall Countyline Corporate Park project. The firm has since provided architectural design services for five of the stand-alone buildings within the park, including this facility for CGI Windows and Doors and a 473,000-square-foot build-to-suit facility for KLX Aerospace Solutions.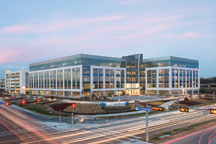 313,000 sq. ft.
Transwestern Development Co. recently completed 3400 at CityLine, a 313,000-square-foot, Class A office building located within CityLine, one of the largest transit-oriented developments in the Dallas-Fort Worth area. 3400 at CityLine features fully structured parking within a connected, eight-level garage. The five-story building offers efficient floorplates and abundant natural light through 10-foot, floor-to-ceiling glass. Building amenities include a 1-acre outdoor event lawn, shuttle access throughout CityLine, deli with tenant lounge and a fitness center. The CityLine development comprises 2.5 million square feet of office space, 2,500 apartment units, multiple hotels and more than 25 restaurants anchored by a Whole Foods.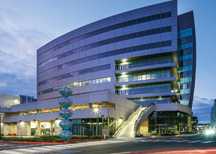 265,000 sq. ft.
Wareham Development has wrapped up construction of the 265,000-square-foot EmeryStation West laboratory/office/transit project at its EmeryStation research campus in Emeryville, California. The addition to Wareham's 2-million-square-foot EmeryStation research and tech campus was designed to meet LEED Gold standards. Its seven levels of laboratory and office space sit above a two-story transit center and 125-car parking podium. The new East Bay/Transbay transit center at the street level will serve Amtrak's Capitol Corridor commuter route from Sacramento to San Jose. Bus bays allow passengers to hop off the train and access last-mile transit options including AC Transit to the new San Francisco Transbay facility or elsewhere, to the free EmeryGoRound shuttle to BART and around Emeryville, or to taxis, limos, and car and bike shares.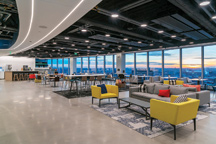 250,000 sq. ft.
Cresa recently completed a new 250,000-square-foot global headquarters in Boston for PTC Inc. (PTC), a software and services company. PTC relocated its headquarters from Needham, Massachusetts, to a newly constructed 17-story, 400,000-square-foot office building in Boston's Seaport District. To maximize views of Boston Harbor and downtown Boston, the open office design places conference rooms and meeting spaces around the building core on each floor, and arranges bench seating with ergonomic sit-to-stand desks in a radial fashion that aligns with the oval shape. More than 200 technology-enabled collaboration and huddle rooms support PTC's activity-based workplace, which has no private offices and no assigned seats, encouraging employees to work where they want.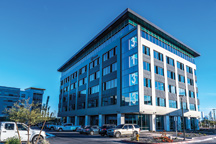 250,000 sq. ft.
Hines recently held a grand opening of the Offices at Chandler Viridian, a multitenant office building in Chandler, Arizona. It is a six-story, Class A office building with 250,000 square feet of leasable space located near the Chandler Fashion Center. The building features a large, open floor plan with 10-foot-tall ceilings, a lounge and a large courtyard. Hines developed the project in a joint venture agreement with New York Life Real Estate Investors, on behalf of its institutional client. The Offices at Chandler Viridian is integrated into the Chandler Viridian master plan development, a 25-acre mixed-use project which also includes a Cambria Hotel & Suites, Broadstone Fashion Center luxury apartments, retail offerings at Chandler Viridian PRIMEGATE and a pedestrian promenade to the Chandler Fashion Center mall.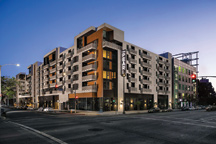 215,495 sq. ft.
Cityview, a multifamily investment management and development firm, recently opened The Pearl on Wilshire in Los Angeles, a luxury mixed-use development featuring 346 apartment homes with a blend of studio, one- and two-bedroom units atop 8,300 square feet of carefully curated retail space. The 215,495-square-foot development provides easy access to a variety of entertainment, dining, recreation and shopping offerings in Koreatown. Some nearby hotspots include The Line Hotel, The Wiltern, Korean American National Museum, CGV Cinemas Movie Theater and Pharaoh Karaoke Lounge. Community amenities include a rooftop terrace with a fireplace and city views, Korean BBQ grills, dog wash and grooming stations for pets, three open-air lounge spaces with fire pits and a bocce ball court, a large pool deck with cabanas and lounge seating, a fitness center, meeting and event space, as well as a game and club room.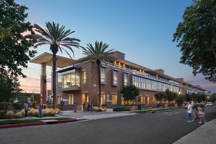 149,697 sq. ft.
C.W. Driver Companies recently completed Chapman University's Keck Center for Science and Engineering in Orange, California. The 149,697-square-foot education and research facility is the largest, most expensive and most technologically advanced project in the university's history. The center is home to the Schmid College of Science and Technology and Fowler School of Engineering. The total cost of the center is $130 million, $87 million of which was completed by C.W. Driver Companies. The Keck Center is comprised of three floors and divided into two sections: the Hall of Science and the Hall of Technology and Engineering, bridged by a grand arch that serves as the focal point of the building. In total, the center includes 18 teaching labs, 22 research labs, 47 faculty and graduate student offices, three multipurpose classrooms and six collaboration areas for students and faculty. The facility also features an 833-seat outdoor amphitheater/stadium and a 347-space, two-story subterranean parking garage.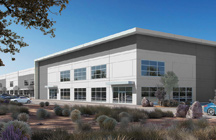 132,450 sq. ft.
San Diego-based Matter Real Estate Group is building Matter Business Park @ Warm Springs, a 132,450-square-foot light industrial office/warehouse project in Las Vegas. The project is located on 10 acres with proximity to the Las Vegas Strip and the Summerlin and Rhodes Ranch communities. The two-building project will offer condominium-style units with flexible floor plans divisible to 6,000 square feet, with each featuring two dock doors and at-grade level, allowing easy vehicle access and loading from the street. Second-story mezzanine space and three doors — two dock and one at grade — are available in select units.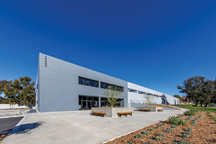 85,824 sq. ft.
CapRock Partners recently completed the repositioning of its Old Grove asset, an 85,824-square-foot freestanding industrial property located on a 5.4-acre site about 15 miles north of downtown San Diego. The property was in a functionally obsolete condition at the time of purchase and had never previously been available. CapRock Partners implemented a top-to-bottom renovation plan to improve the property and bring it to Class A status. The two-story building provides 61,838 square feet of warehouse and a total of 23,986 square feet of newly renovated office space, of which 10,850 square feet can be converted into a laboratory. The facility includes five dock-high loading doors and four grade-level loading doors with 30-foot clear heights.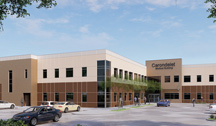 55,000 sq. ft.
PMB will begin construction this summer on a new Class A, two-story 55,000-square-foot St. Mary's Medical Pavilion in Tucson, Arizona. Total project cost will be approximately $17 million. St Mary's Medical Pavilion will be situated in the heart of the St. Mary's hospital campus and within walking distance to the 400-bed acute care St. Mary's Hospital and its ancillary buildings. Carondelet Medical Group will anchor the building with a 23,000-square-foot multispecialty practice. The St. Mary's Medical Pavilion floor plates were designed to allow highly efficient clinical layouts that are conducive for the delivery of modern health care.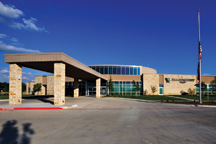 44,782 sq. ft.
Castle Development Group has opened the Wise Health Surgical Hospital in Argyle, Texas. The hospital provides Denton County residents and surrounding areas easy access to a dedicated surgical facility. The 44,782-square-foot single-story, ground-up ambulatory surgery center features an emergency department and full-service imaging including MRI, CT scans and X-rays. The hospital also provides six surgical suites and 12 patient beds and maintains a primary focus on orthopedics and spine surgery. Features include a drive-up porte cochere, an inviting, spacious lobby and reception area, a Fit-N-Wise physical therapy facility and other medical offices.
Do you have a new and noteworthy project in the planning, design or construction stage that you would like to share with fellow real estate professionals? Send a brief description and high-resolution rendering to developmentmagazine@naiop.org.