838,000 sq. ft.
Swift Real Estate Partners recently wrapped up redevelopment of the Rancho Vista Corporate Center in San Diego. The corporate campus includes Class A office space plus research and development buildings totaling 838,300 square feet on 67.5 acres. The corporate campus now includes a remodeled conference center, courtyard and 15,600-square-foot café with an operable glass wall system, as well as a new indoor workout facility, activity center with basketball and volleyball courts, outdoor collaboration areas and an outdoor dining area with a stretched fabric canopy.
800,000 sq. ft.
Fashion District Philadelphia, a joint venture partnership between Macerich and PREIT, is an 800,000-square-foot retail and entertainment development currently under construction in downtown Philadelphia. When completed, it will span three city blocks and feature shopping, destination dining and entertainment, along with public art and cultural events. Fashion District Philadelphia is near the city's historic district and will be connected to Reading Terminal, the Pennsylvania Convention Center and SEPTA's Jefferson Station.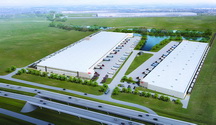 519,224 sq. ft.
Trammell Crow Company and partner Artis REIT have commenced construction on a new, Class A, 519,224-square-foot rail-served distribution facility in the Cedar Port Industrial Park near Houston for Plastic Bagging & Packaging, Inc. (PBP), an international producer of plastic bagging and provider of packaging services. Completion is scheduled for summer 2019. The facility will feature 32-foot clear-height distribution space, 60-foot speed bays, a 65-foot clear-height roof pop-up for an indoor silo, and approximately 8,000 square feet of office space. It will also contain a form, fill and seal production line capable of processing 70 tons of resin per hour..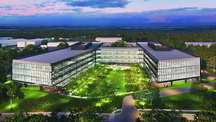 507,000 sq. ft.
Hobbs Brook Management LLC will build a new four-story, 507,000-square-foot Class A office building with a new parking garage within the Hobbs Brook Office Park in Waltham, Massachusetts. The company says the new building, which should be finished by 2021, will be the largest contiguous Class A office building along the Route 128 "technology belt" in Massachusetts and will feature office and/or research laboratory space. Hobbs Brook Management LLC will manage the facility and oversee the construction. Gensler Architects of Boston is the architect.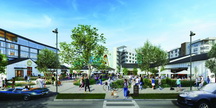 381,000 sq. ft.
One Paseo is a mixed-use project currently being developed by Kilroy Realty in San Diego's Carmel Valley neighborhood. The multi-concept development will merge 96,000 square feet of shops and restaurants, 608 residential units and 285,000 square feet of Class A office space. Popular local and national retailers and fitness studios will open their doors in early March 2019. The residential component will open in summer 2019, and the office space will be completed in 2020.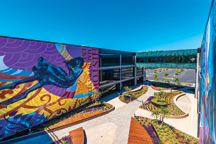 330,000 sq. ft.
Casey Brown Company recently completed AMP&RSAND, a 330,000-square-foot Class A office located in the San Diego Union-Tribune's former headquarters in the Mission Valley area of San Diego. The redevelopment of the 13-acre iconic campus included major overhauls of a five-story office tower and a three-story industrial/office building. Each consists of 165,000 square feet. Thirteen-foot ceilings and new oversized windows bring in natural light, while the interior design aims to create an industrial loft-style feel with exposed brick, concrete pillars and polished concrete floors. The three-story building originally held the Union-Tribune's printing plant and was built to withstand the heavy load of printing presses and other equipment..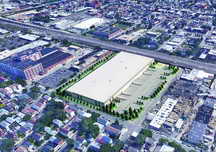 174,536 sq. ft.
Meridian Design Build recently commenced construction on the Rockwell Logistics Center in Chicago, a 174,536-square-foot speculative multitenant industrial facility for Venture One Real Estate and USAA Real Estate Company. Rockwell Logistics Center is being constructed on a redevelopment less than 1.5 miles from I-55 and within 5 miles of the Loop. The 32-foot clear height facility is designed to accommodate an array of tenant sizes and uses. Key features include an ESFR sprinkler system, generous truck courts and 32 onsite trailer parking stalls. The building features two drive-in doors and can accommodate up to 30 dock positions.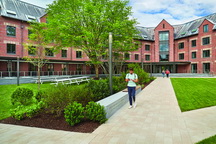 137,000 sq. ft.
Architectural firm Pirie Associates recently completed a $60 million, 137,000-square-foot expansion at the Yale Law School in New Haven, Connecticut, the first such expansion since the Sterling Law Building was completed in 1931. The adaptive reuse of 100 Tower Parkway into Baker Hall restores academic and residential life to the law school while providing students places to enjoy their downtime. Baker Hall now includes a two-story lecture theater and three-tiered student center, as well as several offices for the law school. A renovated courtyard helps bridge the 180 yards between Sterling Law Building and Baker Hall.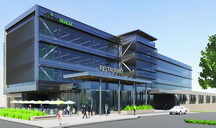 78,000 sq. ft.
Duke Realty Corp. broke ground in September on its new corporate headquarters in the River North at Keystone mixed-use development in Indianapolis. The new four-story, 78,000-square-foot building will serve as the national commercial real estate company's operational base. It's being developed through a partnership with PK Partners, an Indianapolis-based real estate development and investment company, on a 2.9 acre-site where a restaurant previously stood. Duke Realty's offices will occupy 73,000 square feet of space in the building, with the remaining 5,000 square feet of space to be occupied by a yet-to-be-determined restaurant. The building will meet LEED Silver certification for new construction..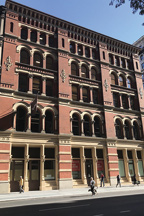 75,000 sq. ft.
MBI Group, a New York City-based construction firm specializing in commercial and retail interior fit-outs, has completed landmark restoration at 670 Broadway, a commercial property owned by Paramount Group. Originally designed by renowned architect George E. Harney and completed in 1900, the five-story, 75,000-square-foot red-brick building was created in the Victorian Gothic style with varying color, texture and gothic details. Approximately 11,000 square feet of retail space will occupy the ground floor; the upper levels are reserved for offices. MBI Group worked with Paramount Group and TPG Architecture to rehabilitate the building in New York's NoHo (North of Houston Street) neighborhood.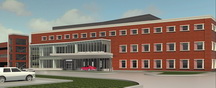 62,000 sq. ft.
Anchor Health Properties will develop Pavilion III, a three-story, 62,000-square-foot medical office building on the Doylestown Hospital campus in Doylestown, Pennsylvania. Pavilion III features plans for an ambulatory surgery center plus physician offices and therapy services that will be relocated from the main hospital. The facility will be located at the front of the Doylestown Hospital campus to enhance visibility and convenience for patients. It is expected to open later in 2019.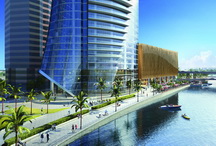 50+ stories
Riverwalk Place, a 50-plus-story mixed-use project along the Hillsborough River in downtown Tampa, begins construction in early 2019. It's being developed by Feldman Equities LLC and Two Roads Development. When completed, it will be the tallest tower on Florida's Gulf Coast. Five restaurants are planned for the project's ground floor river walk. Above that will be more than 30 floors of luxury condominiums. A signature feature will be a two-story sky deck on the 20th and 21st floors.
Do you have a new and noteworthy project in the planning, design, or construction stage that you'd like to share with fellow real estate professionals? Send a brief description and high-resolution rendering to developmentmagazine@naiop.org.