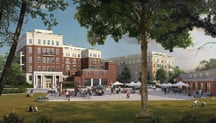 3.1 million sq. ft.
The master development team of Hines, Urban Atlantic and Triden Development Group, in partnership with the District of Columbia, is redeveloping the former Walter Reed Army Medical Center as The Parks at Walter Reed, a 66-acre community that will include 3.1 million square feet of mixed-use development, with 190,000 square feet of retail space, 325,000 square feet of office and medical space, 20,000 square feet of creative and cultural uses, and a hotel/conference center, in both renovated historic buildings and new construction, plus more than 20 acres of open space. The first two new buildings, The Brooks and The Vale, will include approximately 390 for-sale and rental residential units plus 18,000 square feet of retail space. Construction on the first two redevelopment projects, which will provide affordable housing for veterans and seniors, began in June 2018, as did an on-site event series.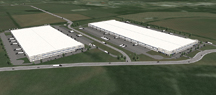 2.7 million sq. ft.
DHL Supply Chain has broken ground on a new logistics park in Fort Worth. Designed to serve future e-commerce customers, Elizabeth Creek Gateway Industrial Park will contain three buildings totaling more than 2.7 million square feet. Phase I will include two buildings, both of which will offer 36-foot clear height ceilings, LED lighting and freeport tax exemption. These include a 706,000-square-foot building with 100 dock doors and 194 trailer stalls, plus a 494,000-square-foot building with 70 dock doors and 126 trailer stalls. Both are expected
to be complete by the end of 2018. The completion date for the third 1.5 million-square-foot building has not yet been determined.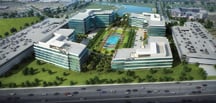 1.35 million sq. ft.
Lincoln Property Company and Harvard Investments have been chosen by the Mesa City Council to develop 28.2 acres of city-owned land in Mesa, Arizona, as Union, a four-building, 1.35 million-square-foot office complex. The L-shaped buildings will range in height from four to eight stories and from 225,000 to 450,000 square feet. Interiors will feature large open floor plates and high ceilings. An on-site garage will offer a five-spaces-per-1,000-square-foot parking ratio. The buildings will surround a pedestrian plaza with multiple water features and shaded gathering spaces, which will connect to Riverview Lake directly to the south. Construction of the first building is expected to begin in 2019.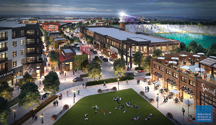 1 million sq. ft.
Waterstone Properties Group Inc. has broken ground on Rock Row, a 1 million-square-foot mixed-use development being built on the site of the former Pike Industries Quarry near Portland, Maine. Designed by Wakefield Beasley & Associates, the 100-acre project will, at full buildout, include 400,000 square feet of office space, including a 100,000-square-foot medical and wellness campus; 450,000 square feet of retail space, including shops, restaurants, a movie theater and concert venue, and a 25,000-square-foot indoor/outdoor food hall; and 750 apartments. A network of walking, biking and running trails will connect Rock Row with the quarry and additional trail networks in the surrounding community. The first tenant, Market Basket Supermarket, is expected to open in summer 2019.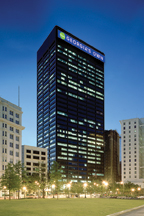 620,000 sq. ft.
Zeller Realty Group is transforming 100 Peachtree, an iconic office building in downtown Atlanta, with upgraded amenities, the city's first digital building-top signage, enhanced connectivity and new community programming. The 620,000-square-foot building's lobby will feature new outdoor gathering spaces, soft seating, an interactive screen and public art installations, while an amenity hub on the 18th floor will contain a conference center, tenant lounge and upgraded fitness center. A 174-foot-long digital sign will display tenant Georgia's Own Credit Union's logo, as well as community-oriented messages, beginning in early 2019.
540,000 sq. ft.
Biomed Realty is developing Dexter Yard, a new 540,000-square-foot mixed-use building in Seattle's South Lake Union neighborhood. Designed by SKB Architecture and Design and scheduled to open in late 2020, the 15-story building will consist of a pair of 175-foot-high towers and will include 515,000 square feet of lab and office space above approximately 25,000 square feet of ground-floor retail space and below-ground parking. A pedestrian through-block passage will offer access to the retail spaces, elevator lobbies and an open gathering space while also serving as a pathway to the South Lake Union neighborhood and Lake Union. The project is being marketed to tech, biotech and life sciences companies.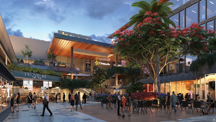 250,000 sq. ft.
Federal Realty Investment Trust, Grass River Property and the Comras Company have begun redeveloping CocoWalk, the iconic retail center in Miami's Coconut Grove district, as a mixed-use complex. Their plans include a new 85,000-square-foot office building and 20,000 square feet of ground floor retail space on the eastern side of the complex. Demolition began in May 2018; the completed 250,000-square-foot project, which also includes a major remodel of the property's west side, is expected to deliver in the fourth quarter of 2019. At its center will be an open-air courtyard with cafe seating, water features and native foliage.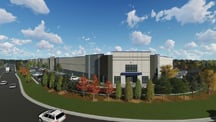 190,000 sq. ft.
Ridge, the industrial arm of Transwestern Development Co., and Principal Real Estate Investors are building Capital Distribution Center, a 190,000-square-foot distribution center, on the 11-acre site of the former printing facility for the Army Times in Springfield, Virginia. Located near the intersections of Interstates 95, 395 and 495, the facility will provide convenient access to the entire Washington, D.C., region. The rear-loaded building will have a 32-foot clear height ceiling, 64 dock doors, 50- by 43-foot column spacing, ESFR fire suppression, and parking for 22 trailers and 196 cars. It is slated for delivery in the first quarter of 2019.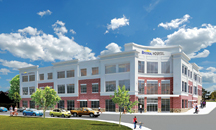 62,000 sq. ft.
Rendina Healthcare Real Estate and Bristol Hospital broke ground in May 2018 on The Bristol Hospital Ambulatory Care Center, a 62,000-square-foot health care facility in downtown Bristol, Connecticut. The facility, which will be owned and managed by Rendina, will be occupied by the hospital's multi-specialty group, which provides cardiology, endocrinology and diabetes, neurology, orthopedics, rheumatology and urology services. The building's design blends medical and retail architectural elements, including a two-story atrium with a cafe. The project is expected to open in late 2019.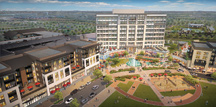 324 acres
Bright Realty has broken ground on The Realm at Castle Hills, a 324-acre mixed-use development in Lewisville, Texas, just 15 minutes from Dallas/Fort Worth International Airport. Phase I, Offices at The Realm, a nine-story building with 235,000 square feet of office space above 15,000 square feet of ground-floor retail space, is scheduled to deliver in mid-2019, along with Crescent Park, which will feature shaded seating, event space, a water feature and more. Groundwork has also begun for Phase 2, a 260-unit multifamily complex above an additional 35,000 square feet of retail space, which is expected to deliver in mid- to late-2020. Situated on the site of the former Bright family ranch, the project will also feature an extensive trail system.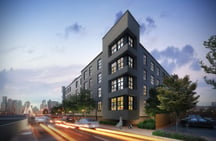 171 units
Berkeley Investments is nearing completion of The Graphic, the largest modular construction project in the Boston area. Designed by Icon Architecture, the transit-oriented development will include 171 apartments in two buildings, approximately 4,000 square feet of retail/restaurant space and 113 parking spaces. The development, which is located across the street from an MBTA station in Charlestown, Massachusetts, includes the adaptive reuse of the Graphic Arts Finishers building as well as a new four-story podium being constructed with 129 modular boxes, each of which is 60 to 65 feet long, weighs between 30,000 and 35,000 pounds, and takes only about 20 minutes to be lifted into position. Residents are expected to begin moving in in October 2018.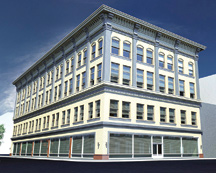 37 units
Paramount Assets is transforming the former United Women's Garment Workers' Union headquarters in Newark, New Jersey, into William Flats, a four-story, 37-unit luxury apartment building with 12,000 square feet of ground-floor retail space. The adaptive reuse project's eco-friendly design is focused on bringing "green" elements into an urban setting, including an open-air courtyard with a two-story vertical garden. When completed in October 2018, the studio, one- and two-bedroom apartments will feature 12-foot ceilings, hardwood floors, high-efficiency heating and cooling, and integrated video surveillance intercoms. Amenities will include a secure package room, recreation room and gym.