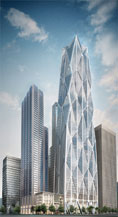 2.4 million sq. ft.
Beijing-based Oceanwide Holdings has begun construction of the First Street Tower of Oceanwide Center in downtown San Francisco. When completed in 2021, the 910-foot-tall tower will be the second-tallest building in the city. The 2.4 million-square-foot mixed-use structure will encompass about 1.1 million square feet of office space as well as 109 luxury residences. A second tower will feature additional residences and a 171-room Waldorf Astoria Hotel. Designed by Foster + Partners and Heller Manus Architects, the First Street Tower will also contain a 26,000-square-foot ground-floor "urban room" with 68-foot-tall ceilings. The urban room will include retail space as well as space for farmers markets, concerts and other events — plus a water feature that will convert to a stage and a second-floor viewing platform.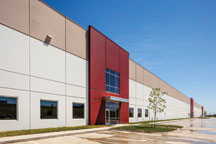 208,000 sq. ft.
The Opus Group has completed and fully leased the first building at Corporate Woods Industrial Park in Ankeny, Iowa. The building features 32-foot clear height ceilings, ESFR sprinkler systems and up to 50 dock doors. Power Distributors has leased nearly 70 percent of the 208,000-square-foot speculative warehouse. The company's 145,000-square-foot velocity distribution center will house and distribute parts and products to its customers across the Midwest. Set on 52 acres adjacent to Interstate 35 and just a mile from Interstate 80, Corporate Woods Industrial Park can accommodate up to three buildings, for a total of 600,000 square feet.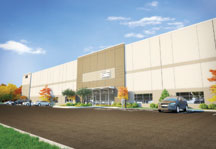 171,600 sq. ft.
Liberty Property Trust has broken ground on Caliber North, an extension of the company's five-building Caliber Ridge industrial park in Greer, South Carolina, near the BMW Manufacturing Plant as well as a new inland port. The market's first speculative warehouse will consist of a 171,600-square-foot structure designed to accommodate distribution, light assembly and/or manufacturing uses. Designed by MCA Architecture, it will feature 36-foot clear height ceilings and a seven-inch slab floor. Delivery is expected in April 2017; a second, 94,500-square-foot building is also planned. Both structures have been designed to LEED standards.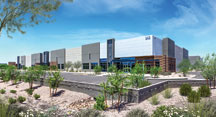 147,000 sq. ft.
Trammell Crow Company (TCC) and partner Artis REIT have announced the development of the third of four phases of Park Lucero as well as a full-building lease commitment by Silent-Aire USA, Inc. Park Lucero, a 48-acre industrial park in Gilbert, Arizona, features buildings with dock-high, truck well and grade-level loading; 24- to 30-foot ceiling clear heights; and an overall 2.1:1,000 square foot auto parking ratio. Silent-Aire will be relocating and expanding its U.S. headquarters in the 147,000-square-foot building. Construction began in late 2016 and the structure is expected to deliver in May 2017. Park Lucero is directly adjacent to more than 1 million square feet of retail amenities. Upon full buildout, it will contain nearly 600,000 square feet of industrial space in six buildings.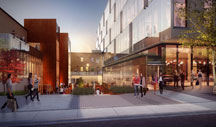 87,500 sq. ft.
Hullmark Developments Ltd. is developing 80 Atlantic, a five-story, 87,500-square-foot office building in historic Toronto's Liberty Village. Quadrangle Architects Ltd. has tailored the timber-framed structure to appeal to Liberty Village's young and creative professionals, many of whom work in the technology, marketing and media industries. The design uses heavy timber and stone to create a high-performance building envelope of curtain wall glazing. The first heavy timber building to be permitted since the provincial building code was changed in 2015, 80 Atlantic is expected to be completed in 2018.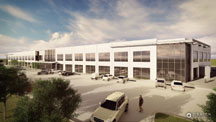 80,000 sq. ft.
Primera Companies Inc. has begun construction of Town Square Place in Village 121, a mixed-use development in Plano, Texas. The 80,000-square-foot office building will feature 34 fully built-out suites ranging from about 1,000 to 3,000 square feet. Each suite will include a multipurpose break room with a sink and designated server cabinets. Designed by O'Brien & Associates, Towne Square Place will be Energy Star certified and will contain two shared conference rooms as well as a self-service cafeteria and food mart. The building will be ready for occupancy in early fall 2017.
20,000 sq. ft.
eBay's corporate campus in San Jose, California, has a new "front door" known as Main Street. The 20,000-square-foot hub, which was designed by ESI Design and completed in late 2016, features a 7,150-square-foot "main hall" for conferences and other large events, a coffee bar and an outdoor deck. Glass walls provide an open, airy environment, while interactive installations allow visitors to experience the company's global reach. The centerpiece is a 15-foot touchscreen wall where employees and visitors can tap icons representing shoes, handbags or other goods, then see how many items in that category were sold in the past few hours or days. Additional interactive screens showcase eBay buyers, sellers and others.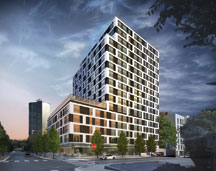 166 units
Aspen Heights Partners is working with Grand China Fund to develop a 166-unit, 464-bed student housing high-rise in Austin, Texas. The project is Grand China Fund's first venture into student housing. Floor plans will range from efficiencies to five-bedroom units. The 17-story building will also feature a sixth-floor amenity terrace with a fitness center, game and study lounges and a pool area with grills overlooking the University of Texas campus. Construction began in September 2016 and is expected to be completed by fall 2018.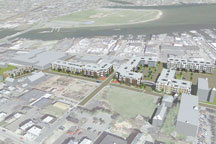 80 units
The Norwalk Housing Authority and Trinity Financial broke ground in November 2016 on the redevelopment of Washington Village Phase One in Norwalk, Connecticut. This phase, which is expected to be completed in March 2018, will consist of 80 new mixed-income apartments: 40 replacement public housing units, 18 affordable tax credit units and 22 market-rate units. Upon completion of all three phases, this initiative will replace Connecticut's oldest public housing project with 273 new apartments, half of which will be public housing.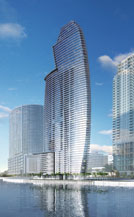 66 stories
In Miami, global developer G and G Business Developments plans to begin construction of Aston Martin Residences in summer 2017. Set along the waterfront where the Miami River meets Biscayne Bay, the 66-story tower will mark the Aston Martin brand's first foray into luxury living. The building will include approximately 390 condominiums, ranging from one- to four-bedroom units as well as penthouses with private pools and terraces. The luxury automaker's design team will design all interior common spaces, including two private lobbies, a two-level fitness center and a full-service spa. Additional amenities will include a 55th-floor infinity pool and a private yacht marina. The project is expected to be completed in 2022.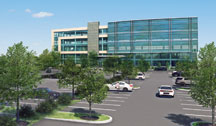 18 acres
Al. Neyer has acquired 18 acres in the Cool Springs area of Franklin, Tennessee, for the development of Mallory Green, a walkable mixed-use project that will include a speculative five-story office building and two business hotels. New York Life Insurance Co. is joining Al. Neyer as an investment partner in the Nashville-area office building, which will feature floor-to-ceiling glass, an open floor plan and almost 1,000 parking spaces. Dakota Legacy Group will develop the hotels. Al. Neyer envisions the project as "a modern destination where people can enjoy walking paths and easy access to more than 45 dining and retail options just steps away from their office or hotel room." Mallory Green will incorporate four acres of protected green space. A future phase could include a second office building and parking garage to serve both office buildings and hotels.