The post-pandemic office will look significantly different from its predecessor
The modern office is in the midst of a transformation. With most knowledge workers opting out of the traditional five-day-in-office workweek in search of flexibility and hybrid work solutions, the shape, size and focus of the future office is rapidly changing.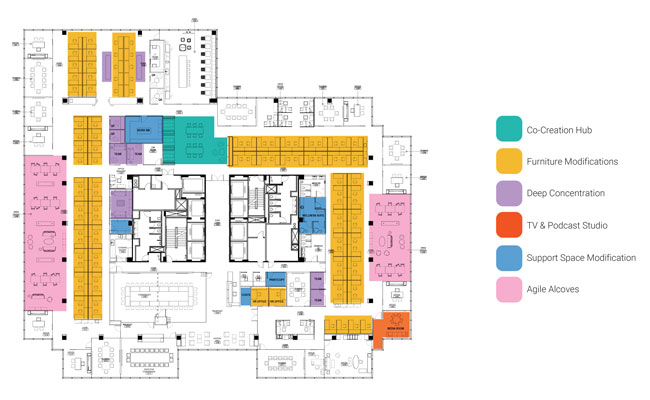 CBRE's Spring 2022 Office Occupier Sentiment Survey provides a snapshot of these changes and their impact on commercial real estate. In a survey of 185 tenant companies, 39% of respondents said they plan to expand their office portfolios over the next three years. That's up from 29% the previous year, suggesting that fears about the "death of the office" have been exaggerated. Fifty-two percent said they plan to reduce their office space holdings, but only 8% say they will become fully remote. Seventy-three percent — the vast majority — plan to support hybrid work. (See shaded box below for more findings from the survey.)
As of now, office occupancy is slowly beginning to rebound from the depths of the COVID-19 pandemic. NAIOP's Office Space Demand Forecast, released in May, reports that vacancy rates have increased across the country for 10 straight quarters. However, Class A buildings with amenities designed to attract skilled workers are helping to stabilize the office market. Net office space absorption in the remaining three quarters of 2022 is forecasted to reach 46.9 million square feet and total 47.3 million square feet for all of 2023.
In April, JLL research showed that leasing activity across the U.S. climbed by 5.4%, the fifth quarter in a row of rising demand. The report cited "improved clarity surrounding return-to-office timelines." Additionally, Moody's Analytics indicates that the U.S. office vacancy rate in the first quarter of 2022 fell 18 basis points from the previous year to 18.1%.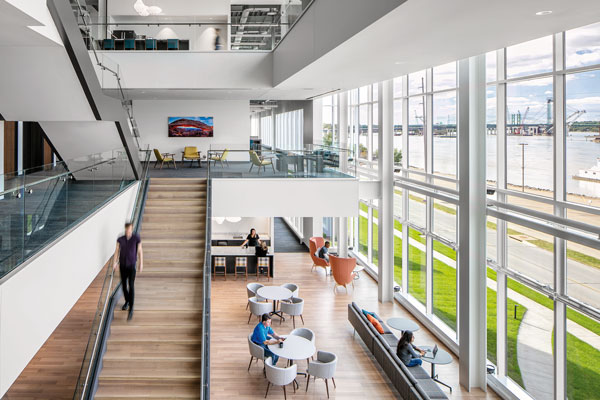 While data shows that the office isn't going away, traditional ways of working are. Hybrid work as the new normal means that tenant companies are coming to market with a new set of needs. From property developers and occupants alike, the most popular question seems to be: "How can I bring people back to the office?"
Activity-Focused Environments
Focus, collaboration, socialization, learning and rejuvenation are five activities that have long been considered standard components of the modern workplace. Planned as an all-inclusive environment, the pre-pandemic office is a mixture of these five work modes, with priority given to dedicated-focus, heads-down workspaces. Areas for collaboration and socialization are seen as part of a supporting cast of functions subordinate to dedicated individual spaces.
A key shift in the mindset and planning of the future office will be the re-shaping of individual workspace. In May 2022, Nelly Hayat, a workplace innovation analyst for Density, a space analytics platform, told Bisnow that this shift will "likely signal the end of the 'sea of desks' as firms eschew the one-desk-per-worker ratio in favor of more social and collaborative spaces."
Unburdened by the requirement to accommodate large blocks of space for personal desks, future offices will become catalysts for social interaction and co-creation. This will not only reshape space; it also has the potential to remake organizational culture.
That concept can be seen in LEO A DALY's redesigned studio in Minneapolis. The company moved within its original building to a 25,562-square-foot space. To accommodate the smaller office, the company shrunk employee workstations by 25% and added sit-stand desks and low walls to increase collaboration. The flexible workspace allows employees to be productive within a smaller footprint. Common spaces include a café, as well as huddle areas for both formal and casual meetings.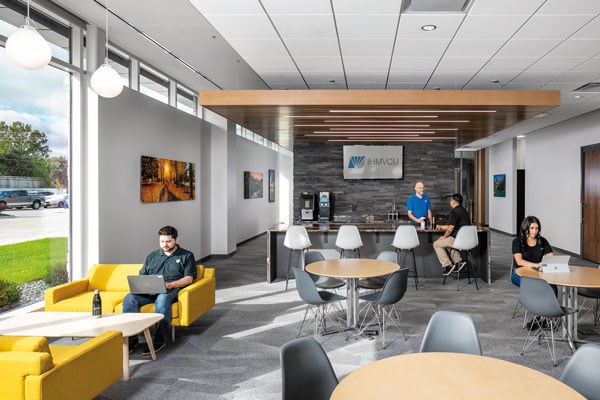 Along those same lines, a major retailer recently engaged LEO A DALY to rethink its U.S. headquarters in Arlington, Virginia. Six years ago, when the office was first opened, a typical open-plan design met its needs. Post-pandemic, company leaders found that much of the open space was left unused and employees were unmotivated to come into the office. The client asked for more spaces where staff can work collaboratively in open areas rather than closed meeting spaces, which would help increase collaboration and social interaction and, hopefully, the staff's interest in returning.
A review of space utilization and staff feedback showed that employees wanted a combination of collaborative, social spaces and enclosed spaces for deep concentration. There was little demand for the "sea of desks" that had dominated the workplace. In response, the redesign significantly reduced the square footage dedicated to open stations to make room for more collaboration areas and larger social spaces on every floor. In addition, the number of singular spaces for deep concentration doubled.
The Shape of the New Workplace
After two years of wait-and-see strategies, companies are finally moving forward with plans to redesign their offices to accommodate a hybrid workforce. This is a transitional period where firms are testing new ideas and gathering real-time data to inform long-range plans.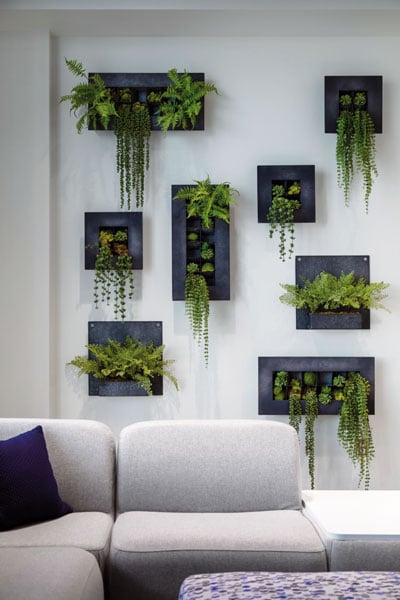 What happens next will be an intense period of innovation and speculation during which long-held norms regarding the workweek, workday, ideal site, spatial hierarchy, and the proportion of spaces devoted to individual tasks vs. group collaboration will undergo constant tweaking. While it may take several years before today's experiments solidify into new conventions, it's clear that it will be a fundamental change in the way offices are planned, with the collective taking precedence over the individual.
"Our workplace strategy group, and occupancy insights group, have never been busier because of everybody trying to understand what they should be doing," CBRE Global Head of Occupier Thought Leadership Julie Whelan said in an interview with Bisnow in May. "They are looking to test and then pull the trigger."
In making sense of this transitional period, Whelan told Bisnow that owners might want to think of upgrades in three categories: physical, digital and human. Physical elements of space include conference rooms and collaborative spaces. Digital elements include apps to order coffee and book meeting rooms, and technology to hold better hybrid conference calls. Human elements include better air filtration, and health and wellness features.
The National Retail Federation's (NRF) recent office renovation offers an example of how companies are experimenting with physical, digital and human elements. With the goal of bringing people back into the office, NRF engaged LEO A DALY to retool its Washington, D.C., headquarters space. CFO Zahilys Hernandez-Perez expressed her hope to "increase the opportunities for collaboration and creativity."
The redesign targeted outdated support spaces such as workrooms and file rooms, and inserted a new program of communal areas into the existing office layout. New spaces include a central co-creation hub, agile alcoves (free-address work areas), collaboration lounges, a library, deep concentration spaces and a new wellness suite. All spaces will include occupancy monitoring technology to provide real-time usage feedback. Through this infusion of communal activities, NRF is hoping to lure staff back to the office and re-energize its organizational culture.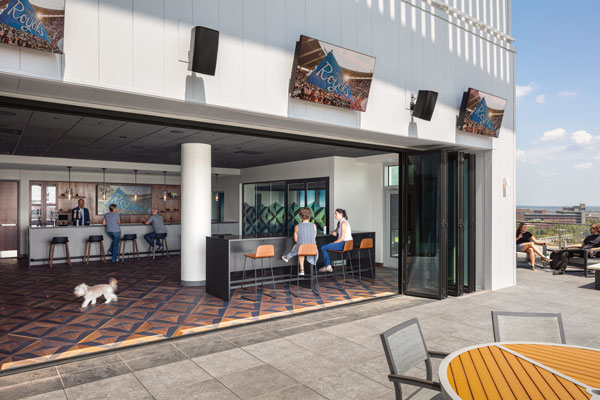 Additionally, LEO A DALY's work on the new 92,000-square-foot International Harvester Mississippi Valley Credit Union headquarters in Moline, Illinois, makes use of ample natural light, which researchers at Cornell University have shown can lead to an 84% reduction in physical issues such as eyestrain and headaches. The facility is home to 300 employees, with space to grow to 400.
The company also maximized natural light at financial services firm Carson Group's new 200,000-square-foot headquarters campus in Omaha, Nebraska. There, an electrochromic glass envelope tints in response to changing daylight conditions, which allows for views in all directions. This transparent skin directs ample interior daylighting to private and collaborative workspaces.
Change and Disruption Drive Innovation
The pandemic demonstrated that being in the office is not an imperative to get work done, especially when it comes to individual focus work. Now, with nearly 50% of the office space previously dedicated to individual desks up for grabs, there is an extraordinary opportunity to innovate the ways companies build their cultures.
The future office will serve as a collaborative hub and innovation center. By prioritizing communal activities and meaningful gatherings, the office becomes a vessel for collective thinking and doing. These new workplaces will deliver a more natural and desirable experience, encouraging people to converge, create and strengthen organizations.
Pablo J. Quintana is vice president, national interior design leader – workplace for LEO A DALY, an architecture, planning, engineering, interior design and program management firm.
---
More Insights from CBRE's Occupier Sentiment Survey
Here are some other office trends identified in CBRE's Spring 2022 Occupier Sentiment Survey, which asked 185 commercial real estate executives their opinions on the future of the office:
A Return to the Office Takes Hold. A total of 62% of survey respondents said they were in the process of returning to the office or were planning to do so.
A Slow Return is Likely. For 53% of respondents, a return to the office will be voluntary, while 31% are making it mandatory. "Companies that are sensitive to employee needs and clearly communicate why the office is important will likely be more successful in effecting an engaged and sustained return," according to the survey.
Sustained Support of Hybrid Working. A total of 61% of survey respondents want to create flexible work schedules that also provide some consistency and predictability. Meanwhile, 12% of respondents say they will try to allow employees to choose which days they come into the office.
Focus on Office Presence. Eighty-five percent of respondents want workers in the office at least half the time, and 75% would like a requirement for the number of days that a worker will be in the office.
Growth of Flexible Office Space Demand. More than half of respondents (51%) see flexible office space making up a larger part of their portfolios in the future.
Prioritizing Space Sharing. Most respondents (63%) anticipate their workspaces transitioning from assigned seating to activity-based work and hotdesking.
Preference for Better Buildings. Most respondents said they wanted buildings with flexible open space (65%), shared meeting space (59%), good indoor air quality (50%) and space for private phone calls and Web meetings (49%).
Leaning into Technology. Enhanced video conferencing is by far the biggest priority for respondents (76%). The next most popular responses were occupancy sensors (53%), smart building sensors (48%), employee experience apps (45%), touchless technologies (42%) and air quality sensors (37%).
Emphasis on ESG. The top three environmental, social and governance (ESG) concerns are reducing greenhouse gases (71%), improving employee health and well-being (59%), and reducing resource usage and waste (49%). Social justice/diversity efforts and reducing pollution also scored highly (32% each).
---
Potential Offices of the Future
In June, The Washington Post profiled several new office concepts that companies are experimenting with. Here's an excerpt:
The Coffee Shop
"Twilio, a communication tools company based in San Francisco, envisions the idea of company-owned coffee shops, which would offer employees free coffee drinks, ambiance and a place for employees to work without having to enter an office. … Entry would be restricted to employees. The coffee shop model would be meant for areas where companies have smaller workforces, complementing its major office hubs."
Nature Connection
"Salesforce's Trailblazer Ranch is located on 75 acres in the Redwoods of Scotts Valley, California. The space, intended to be a retreat and off-site space for employees, aims to complement the software company's main office. It offers workers the opportunity to take guided nature walks, garden tours, group cooking classes as well as do yoga, art journaling and meditation."
Corporate Housing on Campus
"Google's 1.1 million-square-foot Bay View campus based in Mountain View, California … features two office buildings, a 1,000-person event center and 240 short-term employee corporate housing units … All desks have access to natural daylight and outside views with greenery scattered throughout the office. Automated window shades open and close throughout the day, and the ventilation system uses 100% outside air vs. recycled air."
Living Room Collaboration
"PagerDuty, a digital operations management platform, revamped its offices to cater to events, collaboration, client visits and team meetings instead of individual heads-down work … It removed two-thirds of its desks and divided the office into what it calls 'neighborhoods.' Each neighborhood, which looks like a glorified living room or cafe, has open seating areas, some desks and a spot for tea that employees can reserve."
A Morphable Office
"IBM's three-story office in Toronto is meant to be easily reconfigured based on how the office will be used each day. For quick layout changes, the technology company's office features movable walls, adjustable workstations and lightweight furniture."